ECCT urges more market liberalization
CHALLENGE: The ECCT said large firms are unlikely to be hurt by Seoul's FTA with China, but smaller firms might be, while TIER analysts said S Korea may not gain much
The European Chamber of Commerce Taiwan (ECCT) yesterday urged the government to further liberalize the nation's markets, saying that it is crucial for Taipei to fend off dips in trade due to free-trade agreements (FTA) signed by export rivals such as South Korea.
The chamber made the suggestion in its annual position papers, which comes at a time of heated debate in Taiwan between government officials and economists about how much the recent conclusion of the China-South Korea free-trade deal negotiations will affect Taiwan's economy and what the nation should do to cope with the resulting changes in the global trade landscape.
The ECCT, which represents 800 members from 400 European companies, does not see an immediate and significant impact to its members' interests in investing in Taiwan simply because of the trade pact, ECCT chairman Giuseppe Izzo said at a luncheon in Taipei to mark the release of the papers, Shaping Taiwan's Future: Building on Core Strengths.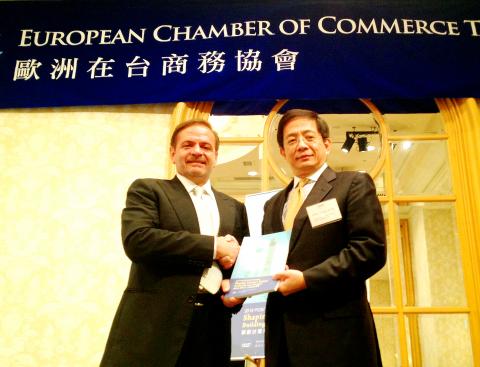 European Chamber of Commerce Taiwan chairman Giuseppe Izzo, left, yesterday hands a copy of the chamber's annual position papers to National Development Council Minister Kuan Chung-ming, who accepted it on behalf of the government at a luncheon in Taipei.
Photo: CNA
"Large corporations set up regional offices in Taiwan, in China or in [South] Korea," said Izzo, who is general manager of STMicroelectronics Ltd in Taiwan. "The concern is more for small and medium-sized companies."
About 80 percent of the chamber's members are large-scale companies, he said.
Instead of seeking more FTAs, the chamber is more concerned about whether Taiwan can pick up its pace in opening up its markets via government programs such as the proposed free economic zones, Izzo said.
"Free economic zones imply more money, more investments and more trading, but we have not seen any progress until now," he said.
Faced with slow progress in signing trade pacts, "Taiwan should do more by itself to liberalize its markets. That is one of the conclusion the Copenhagen study updated in 2012. The conclusion clearly states that Taiwan cannot afford to do nothing," ECCT chief executive Freddie Hoeglund said.
"If more liberalization can be done … there is the possibility of bringing [more] investors," he said.
FTAs primarily resolve tariffs, but 90 percent of technical trade barriers between Taiwan and Europe are not tariffs, he said.
In its position paper, the ECCT urged the government to further liberalize its financial markets, and energy and healthcare industries.
To liberalize the market, the Financial Supervisory Commission reduced the rating by one notch to "A+" from "A++," but that is not enough and not very helpful for the market, said Godwin Chang (張建西), co-chair of the chamber's banking committee.
The government should lower the required rating of offshore structure products to "A-" from the current "A+" as most offshore structure product providers fall in the range between "A" and "A-," Chang said.
Jules Chuang (莊昇勳), co-chair of the chamber's energy and environment committee, called on the government to liberalize the nation's electricity market to facilitate reasonable electricity prices and to increase green energy pricing to encourage public participation.
In related news Gordon Sun (孫明德), director of the Taiwan Institute of Economic Research's (TIER, 台灣經濟研究院) macroeconomic forecasting center, said that South Korea may not be as happy with its deal with China as Taiwan thinks.
South Korean exports to China recorded zero growth in 2012 and negative growth last year due to the rise of China's domestic supply chain, which has hurt sales of South Korean producers of components or semi-finished goods, just as it has hurt Taiwanese steel and petrochemical suppliers, Sun said.
The rise of Chinese brands has also adversely affected sales of South Korean consumer products, especially on Samsung Electronics Co's smartphones, he said.
"Even after the signing of the FTA, it will not necessarily be easy for South Korean products to gain more market share in China in the future," Sun said.
Additional reporting by CNA
Comments will be moderated. Keep comments relevant to the article. Remarks containing abusive and obscene language, personal attacks of any kind or promotion will be removed and the user banned. Final decision will be at the discretion of the Taipei Times.