Beijing mulls more rate cuts on deflation fears
STIMULUS: Concern that GDP growth might fall below 7 percent is forcing authorities to reconsider broader measures, such as cutting the reserve requirement ratio
China's leadership and central bank are ready to cut interest rates again and loosen lending restrictions, concerned that falling prices could trigger a surge in debt defaults, business failures and job losses, sources involved in policymaking have said.
Friday's surprise cut in rates — the first in more than two years — reflects a change of course by Beijing and the central bank, which had persisted with modest stimulus measures before finally deciding last week that a bold monetary policy step was required to stabilize the world's second-largest economy.
Economic growth slowed to 7.3 percent in the third quarter and policymakers feared it was on the verge of dipping below 7 percent — a rate not seen since the global financial crisis. Producer prices, charged at the factory gate, have been falling for almost three years, piling pressure on manufacturers, and consumer inflation is also weak.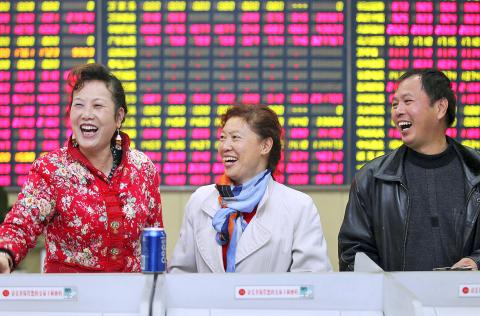 Investors yesterday laugh in front of an electronic screen showing stock information at a brokerage house in Nantong in China's Jiangsu Province. Chinese stocks rose, with a key index hitting a three-year high, while bond yields fell.
Photo: Reuters
"Top leaders have changed their views," a senior economist at a government think-tank involved in internal policy discussions said.
The economist, who declined to be named, said the People's Bank of China had shifted its focus toward broad-based stimulus and is open to more rate cuts as well as lowering the banking industry's reserve requirement ratio (RRR), which effectively restricts the amount of capital available to fund loans.
China cut the RRR for some banks this year, but has not announced a banking-wide reduction in the ratio since May 2012.
"Further interest rate cuts should be in the pipeline as we have entered into a rate-cut cycle and RRR cuts are also likely," the think-tank's economist said.
Friday's move, which cut one-year benchmark lending rates by 40 basis points to 5.6 percent, also arose from concerns that local governments are struggling to manage high debt burdens amidst reforms to their funding arrangements, the sources said.
The cut helped send Asian shares broadly higher yesterday.
Top Chinese leaders had been resisting a rate cut, fearing it could fuel debt and property bubbles and dent their reformist credentials, but were eventually swayed by signs of deteriorating growth as the property sector cooled.
Until then, they had persisted with targeted policy steps, such as cuts in reserve ratios for selected banks and liquidity injections into the banking system.
However, these failed to bring down borrowing costs for the corporate sector.
"Increasing liquidity by the central bank has failed to lower borrowing costs for the real economy," said a former central bank researcher who now works for the government.
"Employment still holds up, but corporate profits have been squeezed as producer price deflation bites, and it's unreasonable for banks to have hefty profits," the ex-researcher.
Many Chinese economists had been calling for bolder policy actions, as recent data showed the economy losing more steam in the fourth quarter and consumer price inflation falling.
Full-year growth is on track to undershoot the government's 7.5 percent target and mark the weakest expansion in 24 years.
"GDP growth is near 7 percent which is at a dangerous level given it could still go even lower due to structural reforms," Haitong Securities (海通證券) chief economist Li Xunlei (李迅雷) said.
"The rate cut helped boost confidence in next year's growth outlook," said Li, who was among economists who discussed policy issues with Chinese Premier Li Keqiang (李克強) at a recent Cabinet session.
Government think tanks, which make policy proposals, have urged Beijing to cut its economic growth target next year, probably to about 7 percent, from about 7.5 percent this year.
Comments will be moderated. Keep comments relevant to the article. Remarks containing abusive and obscene language, personal attacks of any kind or promotion will be removed and the user banned. Final decision will be at the discretion of the Taipei Times.