Australia, China expected to agree to free-trade pact
SETTING THE STAGE: Xi Jinping is due to address the Australian parliament today. Tony Abbott said he wanted to see the deal signed by the year's end
Australia is expected to reach a free-trade deal with China today, cementing ties with its biggest economic partner and reducing its reliance on resource exports.
"The free-trade agreement [FTA] to be announced tomorrow [Monday] with China will be a game changer," Josh Frydenberg, parliamentary secretary to the Australian prime minister, said in an interview in Brisbane yesterday.
"Opening up the Chinese economy in various sectors, including services and agriculture, to Australian exports, is going to be really beneficial," he said.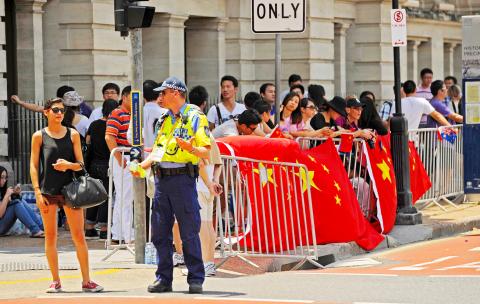 A police officer yesterday stands guard next to members of the local Chinese community as they wait to catch a glimpse of Chinese President Xi Jinping as he drives by during the G20 summit in Brisbane, Australia.
Photo: AFP
Among the developed economies, Australia is the most China-dependent, with exports to the nation accounting for 5.3 percent of GDP, according to Commonwealth Bank of Australia.
Two-way trade, which reached A$151 billion (US$132 billion) last year, has been driven by China's insatiable appetite for resources and energy, while Australia mainly buys cheap Chinese manufactured products.
"There is the distinct possibility of a knee-jerk lift in the Australian dollar upon the announcement," said Richard Grace, chief currency and rates strategist and head of international economics at Commonwealth Bank, the nation's biggest lender. "Both the Australian and Chinese economies are likely to benefit from these developments, but Australia's smaller economy will benefit proportionally more."
Chinese President Xi Jinping (習近平) is to deliver an address to the Australian parliament in Canberra today.
"We all are anticipating that during President Xi's state visit, he and Australian Prime Minister Tony Abbott will oversee the signing of an agreement that is of great significance to the two countries' economic relations," Chinese Vice Finance Minister Zhu Guangyao (朱光耀) said in Brisbane.
Negotiations on the trade deal began in 2005 and languished under the previous Labor government. Abbott, who was elected last year, imposed a target to sign it by the end of this year.
The FTA would be the third that Australia has reached this year following agreements with Japan and South Korea.
China supplied 20 percent of Australia's A$256 billion of imports last year and bought more than 35 percent of its exports last year, IMF data show.
Under the deal with Australia, China has agreed to reverse higher duties it recently imposed on Australian coal exports, the Australian newspaper reported on Saturday, adding that Australian agricultural exports will see tariffs cut to zero between now and 2021.
Meanwhile, billionaire Gina Rinehart is planning a A$500 million investment to supply infant formula to China.
Comments will be moderated. Keep comments relevant to the article. Remarks containing abusive and obscene language, personal attacks of any kind or promotion will be removed and the user banned. Final decision will be at the discretion of the Taipei Times.