HTC lifts production to meet demand
TABLET FEVER: Pre-orders for the soon-to-be-launched Nexus 9 tablet have been so impressive that the company is boosting its production capacity, an executive said
Demand for HTC Corp's (宏達電) new Nexus 9 tablet cobranded with Google Inc is so strong that the company is expanding its production capacity to meet orders, HTC North Asia president Jack Tong (董俊良) said yesterday.
"Consumers from major destination markets are really excited about the launch of the Nexus 9," Tong told reporters on the sidelines of a product launch ceremony in Taipei, which also showcased the HTC Desire Eye, a selfie-focused smartphone, and the Desire 820, which features dual SIM cards.
Google's Nexus 7 tablet was a success, and the impressive pre-orders for the Nexus 9 can be seen as a continuation of the Nexus 7's success, Tong said.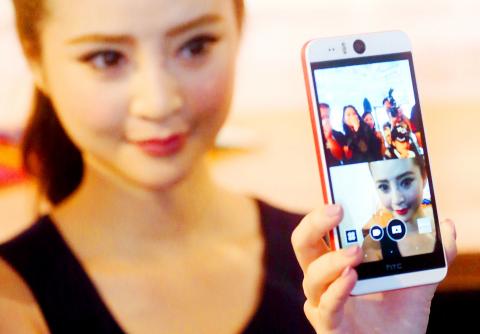 A model demonstrates simultaneous flash photography using the 1.3-megapixel front and back cameras of the new HTC Desire Eye smartphone during a product launch in Taipei yesterday.
Photo: CNA
He added that HTC is considering promoting its own tablet products, but as the global tablet market is shrinking, the company will first observe market reaction to the Nexus 9 and carefully consider how to carve out a niche for itself.
As sales of 7-inch tablets have been affected by the emergence of 5.5-inch and even larger smartphones, HTC may seek to promote higher-end tablet models, he said.
"Product differentiation is a key issue, and we are still thinking about [our strategy]," Tong said.
On Monday, Taipei-based Digitimes Research said in a report that global tablet shipments would post their first-ever annual decline this quarter.
The report said that tablet shipments would reach 74.53 million units this quarter, down 10.1 percent from a year earlier, citing a gradually saturated global market.
Taiwanese manufacturers, including both brandname vendors and contract makers, would account for 64.1 percent of tablet shipments this quarter, or a total of 30.64 million units, as peak-season demand drives up sales of devices from Apple Inc, Amazon.com Inc and Asustek Computer Inc (華碩), the report said.
Commenting on the company's target for mid-tier smartphone sales, Tong said that the HTC Desire 816, which was launched in May, has topped sales in Taiwan for months.
He said the company expects the HTC Desire Eye and Desire 820 to solidify the company's position in the mid-tier smartphone market and continue the strong sales momentum this quarter.
Aggregate shipments of the HTC One (M8), Desire 816 and Butterfly 2 have reached more than 1 million over the past six months, Tong said.
Overall, the company's performance this quarter should be better than last quarter, based on the shipment figures, he added.
In a conference call last week, HTC said that revenue for this quarter could reach NT$43 billion to NT$47 billion (US$1.4 billion to US$1.53 billion), an increase of 2.71 percent to 12.27 percent from NT$41.86 billion last quarter.
Comments will be moderated. Keep comments relevant to the article. Remarks containing abusive and obscene language, personal attacks of any kind or promotion will be removed and the user banned. Final decision will be at the discretion of the Taipei Times.