Lufthansa's pilots extend strike to long-haul services
Lufthansa pilots, on strike since Monday, extended their industrial action yesterday to include long-haul flights, grounding almost all inbound and outbound services at Germany's usually busy Frankfurt airport.
In the ninth walkout by its pilots since April, the German airline said it has cancelled 1,511 flights over the two days of the stoppage, with about 166,000 passengers affected.
Nevertheless, the situation in Frankfurt, Germany's busiest airport, was relatively calm, because about 90,000 passengers had been informed in advance via e-mail or text message, a Lufthansa spokesman said.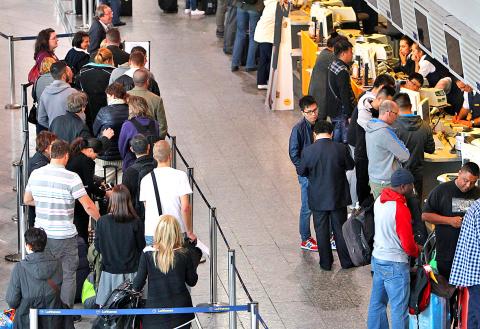 Passengers wait at counters yesterday due to a strike of pilots of German airline Lufthansa at the airport in Frankfurt am Main, Germany.
Photo: AFP
The strike started on Monday at 11am, initially on short and medium-haul services, but was extended to include long-haul flights at 5am yesterday.
The walkout was scheduled to end at midnight last night.
The pilots are striking over plans by management to raise the age at which pilots are able to take early retirement.
At present, pilots are allowed to retire at 55 and receive up to 60 percent of their pay until they reach the statutory retirement age. Travelers in Germany already faced separate strikes by train drivers at the weekend.
In an interview with the mass-circulation daily Bild, German Minister of Transport Alexander Dobrindt complained that the repeated strikes were "killing" the economy.
"Our transport axes are our country's central nervous system... a long-lasting blockade will cause a great deal of damage to the economy," he said.
A German government spokesman on Monday said German Chancellor Angela Merkel saw the ongoing strikes as a good reason to push forward with plans to limit the power of smaller unions by law.
The proposed law would oblige companies to negotiate wage deals with only the largest trade unions and would mean that a settlement with the biggest union in a firm would apply to all workers in that company.
Vereinigung Cockpit, for example, represents about 5,400 pilots at Lufthansa.
The entire Lufthansa group employs more than 110,000 people.
At state-rail operator Deutsche Bahn, the GDL train drivers' union is seeking a mandate to negotiate for train guards and other personnel in order to beef up its numbers. Deutsche Bahn has rejected this.
Additional reporting by Reuters
Comments will be moderated. Keep comments relevant to the article. Remarks containing abusive and obscene language, personal attacks of any kind or promotion will be removed and the user banned. Final decision will be at the discretion of the Taipei Times.