The nation's 5,000th 7-eleven opens in Kaohsiung
'JUST SO CONVENIENT': The chairman of President Chain, the owners of 7-Eleven, said Taiwan had a unique convenience store market due to the diverse services offered
President Chain Store Corp (統一超商) yesterday opened its 5,000th 7-Eleven convenience store, in Greater Kaohsiung, a year ahead of plans, as convenience stores have increasingly become an integral part of life for Taiwanese.
Since it opened the first 7-Eleven store in Taiwan in 1980, President Chain has cornered a competitive market with a diversified operating model and a nearly 50 percent market share.
With more than 10,000 convenience stores in operation in a nation of 23 million people, sustaining profitability has become a major challenge for operators. However, the market leader yesterday said the market is not yet saturated.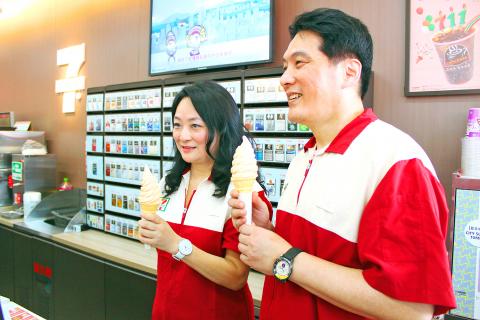 President Chain Store Corp chairman Alex Lo, right, wears a 7-Eleven uniform while eating ice cream with his wife at the company's 5,000th convenience store, which opened in Greater Kaohsiung's Neimen District yesterday.
Photo: Chen Yu-cheng, Taipei Times
"Lifestyles in Taiwan are in transition, and customer spending habits and preferences are changing, which means the retail sector is entering a new era of development," the Chinese-language Apple Daily's online news site yesterday quoted President Chain chairman Alex Lo (羅智先) as saying.
With this change in mind, Lo said the number of stores was not important, but the products and services President Chain could offer its customers are.
Lo was interviewed as the company launched its newest store in Greater Kaohsiung's Neimen District (內門) yesterday, a day after the company reported its cumulative sales for the first half of the year had hit a record level.
Sales in the first six months totaled NT$101.44 billion (US$3.38 billion), an increase of 3.59 percent from the same period last year, the company said in an e-mailed statement.
The company, which reported NT$2.97 billion in net profit in the first quarter with earnings per share of NT$2.86, has not yet released its second-quarter profit report.
On Wednesday, domestic rival Taiwan FamilyMart Co (全家便利商店) reported sales of NT$4.91 billion last month, the highest figures for June in the company's history, with accumulated sales in the first half rising 5 percent year-on-year to NT$27.31 billion.
President Chain attributed the strong earnings to rising sales of beverages, as well as increasing e-commerce and online shopping revenues, according to the statement.
Domestic subsidiaries such as cosmetics retailer Cosmed (康是美) and parcel delivery unit President Transnet Corp (統一速達), and overseas units including Philippine 7-Eleven and Shanghai Starbucks also reported higher sales, President Chain said.
The company said sales growth momentum should continue this month, driven by various marketing activities designed to take advantage of purchases made during the summer vacation and the FIFA World Cup.
Lo said that the company has opened stores in all the major cities and townships of the nation and would continue to open more stores.
"Sometimes, I can't help wondering how many convenience stores Taiwan can accommodate," Lo was quoted as saying. "Basically, the convenience store business in Taiwan is unique in the world. It is just so convenient."
By adopting larger stores and offering more value-added services, such as online shopping and offering tickets for public transportation, the nation's major convenience store chains have developed into the model of a one-stop shop.
In the first five months of the year, they posted total sales of NT$117.8 billion, up 5.4 percent year-on-year and accounting for 26.71 percent of the nation's total retail sales, data from the Ministry of Economic Affairs showed last month.
Comments will be moderated. Keep comments relevant to the article. Remarks containing abusive and obscene language, personal attacks of any kind or promotion will be removed and the user banned. Final decision will be at the discretion of the Taipei Times.