Factories in Vietnam attacked in riots
SOCIAL UNREST: One Taiwanese worker at a factory in Vietnam was hospitalized after being assaulted during anti-China riots, according to the economics ministry
The Vietnamese factories of more than 100 Taiwanese companies were yesterday attacked by mobs, or shuttered due to the most serious anti-China riots in the country in two decades, the Ministry of Economic Affairs said.
According to preliminary information provided by the ministry, one Taiwanese worker at a factory in Pinh Duong Province, southern Vietnam, was assaulted and hospitalized.
The ministry did not provide estimates of the financial damage.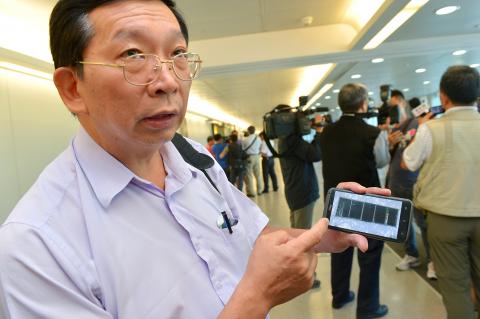 A Taiwanese businessman arriving at Taiwan Taoyuan International Airport yesterday shows pictures on his smartphone of his plant which he said was damaged by anti-China protesters on Tuesday in Vietnam.
Photo: Yao Chieh-hsiu, Taipei Times
However, the association of Taiwanese businesses in Vietnam said more than 1,000 Taiwanese companies in Vietnam were affected by the anti-China protests, with potential losses of several billions of US dollars.
Pinh Duong Province, the area most affected by the anti-China protests, is the biggest manufacturing site of many Taiwanese businesses, with 673 investment projects made in the province since 1988, according to the ministry's data.
Taiwanese manufacturers have accumulated investments totaling US$27.3 billion in Vietnam, with 34 percent of the amount going to the riot-affected areas in Ho Chi Minh City and Dong Nai and Pinh Duong provinces.
Taiwanese investors in Vietnam include companies in the textile, shoe-making, steel, retail, furniture manufacturing and electronics sectors.
Taiwan is the fourth-biggest source of foreign investment in Vietnam after South Korea, Japan and Singapore.
Japan and South Korea have invested US$35.3 billion and US$30.4 billion respectively, while Singapore has invested US$30.1 billion.
Based on companies' filings with the Taiwan Stock Exchange, dozens of Taiwanese companies with factories in Vietnam have either halted operations or encountered damages from the protests, including foodstuff producer Uni-President Group (統一集團), textile maker Far Eastern New Century Corp (遠東新世紀), steelmaker China Steel Corp (中鋼), household sewing machine maker Zeng Hsing Industrial Co Ltd (伸興), home appliances maker Tatung Co (大同), tire producer Kenda Rubber Industrial Co (建大), and Sanitar Co Ltd (凱撒衛浴), which makes sanitary ware under the Caesar brand.
However, most of Taiwan's electronics manufacturers have not been affected by the outbreak of public disorder in Vietnam as their factories are located in the northern part of the country and not affected by the riot.
Hon Hai Precision Industry Co (鴻海精密), which assembles iPhones and iPads for Apple Inc, said its production lines are operating normally as its factory is located in northern Vietnam.
Touchpanel maker Wintek Corp (勝華) said its production was not affected by the riot.
"Our production lines are operating normally. We are closely cooperating with Vietnam's local governments to protect our employees," Wintek spokesman Jay Huang (黃傑洲) said by telephone.
Wintek employs about 8,000 workers including about 40 Taiwanese executives at its Vietnam plant in the capital, Hanoi, Huang said.
The touchpanel maker has not considered withdrawing its investment in the country because of the social unrest, Huang said, adding that the firm never faced such serious social turbulence since its first investment in the country in 1991.
Touchpanel maker Young Fast Optronics Co (洋華) and notebook computer manufacturer Compal Electronics Inc (仁寶) also said their operations in Vietnam remain normal.
Domestic financial institutions keep 53 branches and outlets in Vietnam with total exposure valued at NT$79.3 billion (US$2.62 billion), Financial Supervisory Commission Chairman William Tseng (曾銘宗) said yesterday.
Ten Taiwanese banks own branches and a subsidiary in the Southeast Asian country, while two life insurance companies and two non-life insurance firms also have branches and offices there, Tseng said.
The commission has asked financial institutions to watch out for the safety of employees in Vietnam and immediately report losses if riots cause any, Tseng said.
The commission chair said he has not heard of any losses among Taiwanese financial institutions so far and that the riots are not likely to affect the local bourse despite some listed firms with operations in Vietnam being affected.
Additional reporting by Crystal Hsu
Comments will be moderated. Keep comments relevant to the article. Remarks containing abusive and obscene language, personal attacks of any kind or promotion will be removed and the user banned. Final decision will be at the discretion of the Taipei Times.