China's growth slows to 18-month low
'COMING TO FRUITION': Last month's data showed that Beijing could be successfully enhancing the role of consumption, and cutting its reliance on exports and investment
China's economy grew at its slowest pace in 18 months at the start of this year, but did a touch better than expected and showed some improvement last month, suggesting Beijing will not rush to follow up recent steps to support activity.
Authorities have ruled out major stimulus to fight short-term dips in growth, signaling the slowdown was an expected consequence of their reform drive, even as some analysts think the economy will lose further momentum.
The economy grew 7.4 percent in the January-to-March quarter from a year earlier, the National Bureau of Statistics said yesterday.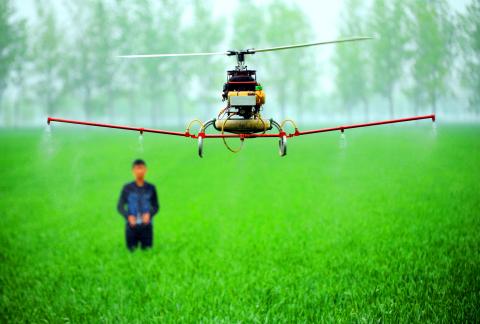 A man controls a drone spraying pesticides on a farm in Bozhou, Anhui Province, China, on Tuesday. China's economy expanded 7.4 percent year-on-year in the first three months of the year, the government said yesterday, marking a further slowing of the world's second-largest economy.
Photo: AFP
That was slightly stronger than the median forecast of 7.3 percent in a Reuters survey, but still slower than 7.7 percent in the final quarter of last year.
It was China's slowest annual growth since the third quarter of 2012, when the world's second-largest economy also grew 7.4 percent.
"The slowdown of China's economy is a reflection of a transformation of the economic mode," Sheng Laiyun (盛來運) of the National Bureau of Statistics said. "There is no fundamental change in the improving trend of China's economy. The economy is still moving steadily toward the expected direction."
For the quarter, the economy grew 1.4 percent, the slowest rate in two years, which Credit Agricole strategist Dariusz Kowalczyk said equated to annualized growth of 5.8 percent.
"This highlights the depth of deceleration at the start of the year," Kowalczyk said.
Beijing has announced some modest measures, such as tax cuts for small firms and speeding up investment in railways, to try to steady growth near its target of 7.5 percent without disrupting plans to restructure the economy or worsening problems of overcapacity and debt.
"Policymakers seem pretty comfortable with the current pace of growth," said Julian Evans-Pritchard, an economist at Capital Economics in Singapore. "I don't think they're going to announce any further significant measures to support growth."
Activity data for last month, released with the GDP figures, showed that Beijing could be making some headway in its attempt to enhance the role of consumption and cut its reliance on the traditional growth engines of exports and investment.
Retail sales were a shade ahead of forecasts with an annual increase of 12.2 percent, while factory output came in just below expectations with a rise of 8.8 percent.
"That sector is continuing to moderate, and now there is an even bigger gap between industrial production and retail sales. So the rotation from relying on heavy industries towards consumption is certainly coming to fruition," said Annette Beacher, head of Asia-Pacific research at TDSecurities in Singapore.
Cumulative fixed-asset investment in the first three months of the year was 17.6 percent higher than the previous year, again on the low side of forecasts.
The services sector, which includes retail, made up 49 percent of GDP in the first quarter, 4.1 percentage points more than the industrial sector.
Growth in retail bodes well for employment, a top government priority, as services are now the biggest employer in China.
"The resilience of the relatively labor-intensive services sector has helped the labor market hold up reasonably well in the first quarter, even though it cooled," Royal Bank of Scotland economist Louis Kuijs said in Hong Kong.
Comments will be moderated. Keep comments relevant to the article. Remarks containing abusive and obscene language, personal attacks of any kind or promotion will be removed and the user banned. Final decision will be at the discretion of the Taipei Times.