China reports surprising exports drop
NOT SO WEAK? Exports could have grown by as much as 5.2 percent if distortions from exporters inflating the value of goods a year ago are factored in, analysts said
China reported an unexpected contraction in exports last month, raising the danger of job losses as Beijing tries to overhaul its slowing economy.
Customs data released yesterday showed that exports fell 6.6 percent from a year earlier to US$170.1 billion, well below analysts' expectations of single-digit growth. Imports contracted 11.3 percent to US$162.4 billion, highlighting the weakness in Chinese growth.
However, analysts said last month's exports were probably stronger than they appeared. They said data suffered from comparison with last year, when exporters are believed to have reported inflated values for goods as a way to evade Chinese currency controls and bring extra money into the country.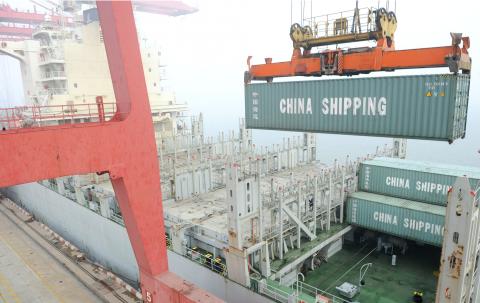 A crane lifts a shipping container at a port in Lianyungang, Jiangsu Province, China, yesterday. China's exports unexpectedly fell for the second straight month last month and import growth dropped sharply.
Photo: Reuters
"While the export data will add to worries among policymakers and in the market about growth slowing down precariously or China losing competitiveness, we would caution against such interpretations," RBS economist Louis Kuijs said in a report.
Kuijs said that with data distortions factored out, China's exports for last month might have grown by as much as 5.2 percent, on a par with South Korea.
The Chinese government's economic growth target this year is 7.5 percent, after last year's 7.7 percent expansion tied 2012 for the weakest performance since 1999. Officials have suggested growth might come in below target.
Last month's decision to launch the "mini-stimulus," based on higher spending on construction of railways, low-cost housing and other projects, suggests planners are already worried about meeting those goals.
In a speech yesterday, Chinese Premier Li Keqiang (李克強) said the foundation for growth is "not strong" and the economy still faces "downward pressure," but he ruled out additional short-term stimulus.
"We will not adopt stimulus for short-term and temporary economic fluctuations, but pay more attention to the healthy development of long-term efforts to achieve sustainable and healthy development," Li said at a conference in the southern city of Sanya, according to a transcript released by the government.
China's global trade balance returned to a surplus of US$7.7 billion after running a deficit in January and February.
For the first three months of the year, China recorded a trade surplus of US$16.7 billion — down sharply from US$43.1 billion the year before — as exports fell 3.4 percent to US$491.3 billion and imports rose 1.6 percent to US$474.6 billion, the figures showed.
"Improving conditions in developed economies should continue to support Chinese exports," Julian Evans-Pritchard of Capital Economics said in a report.
"In contrast, we expect import growth to remain relatively weak as slowing investment spending is likely to weigh on imports of commodities and capital goods," Evans-Pritchard said.
Weakness in Chinese import demand could have repercussions globally, hurting economies from Southeast Asia to Australia to South Africa that supply its industries with iron ore, industrial components and other goods.
Comments will be moderated. Keep comments relevant to the article. Remarks containing abusive and obscene language, personal attacks of any kind or promotion will be removed and the user banned. Final decision will be at the discretion of the Taipei Times.