Acer to focus on online data storage
TRANSFORMATION: The 'build your own cloud' services are part of a shift for the company into a 'hardware plus software and services' vendor, Acer CEO Jason Chen said
Acer Inc (宏碁) plans to reach out to both individuals and enterprises to sell its "build your own cloud (BYOC)" online data storage services from next quarter as part of the company's revival efforts after posting consecutive quarterly losses.
"The challenge that Acer is facing now is very huge," newly appointed president and chief executive officer Jason Chen (陳俊聖) said yesterday.
"We have figured out a clear direction that Acer should follow to achieve its long-term goal, which is serving customers BYOC services, and with that goal established, we are going to take whatever measures we need to make that happen," Chen told a press conference after taking office on Jan. 1.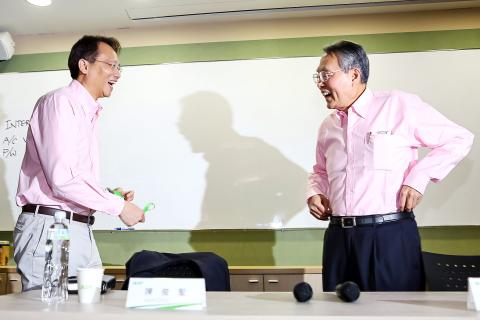 Acer Inc chief executive officer Jason Chen, left, and co-founder and chairman Stan Shih laugh as they arrive for a news conference at the company's headquarters in New Taipei City yesterday.
Photo: Maurice Tsai, Bloomberg
Earlier last month, Acer unveiled its new business strategy, saying it aims to transform into a "hardware plus software and services" vendor.
As soon as April 1, all of Acer's desktop, laptop, tablet and smartphone customers are to be able to access the BYOC platform from their devices, Chen said yesterday.
He said he expects the company to monetize its cloud technology services, but did not say when.
Chen, a former senior vice president of worldwide sales and marketing at Taiwan Semiconductor Manufacturing Co (TSMC, 台積電), the world's largest contract chipmaker, was appointed chief executive by Acer' s board of directors on Dec. 23 last year.
He said that before joining the company, his impression of Acer was that it was better at controlling costs than doing research and development, but he has since found that not to be the case.
Acer has assembled a big research group of more than 1,300 engineers, which is likely to grow further in the future, he said.
The company also applied for 130 technology patents in the third quarter of last year, ranking it second behind only Hon Hai Precision Industry Co (鴻海), the world's largest contract electronics maker, Chen said.
However, he said the company's losses over the past three years were due to its early entry into Ultrabooks and touch-enabled notebook PCs.
Chen said Acer's move to sell Ultrabooks and touch-enabled laptops was "not entirely wrong," but said the company had invested too early in these two sectors.
"It was brave for Acer to make the decision [to enter those markets], but the company invested too much and too early," he said.
"What we need to do now is to dig ourselves out of the hole," Chen added. "There are no magic bullets. We need to focus on the fundamentals."
The company plans to continue selling hardware products, but that will be just a portion of Acer's business, Chen said.
Acer chairman Stan Shih (施振榮), who accompanied Chen at the press conference yesterday, said the company's move to bet on the touch-enabled market, which is backed by Microsoft Corp and its Windows 8 operating system, was proved to be "a misstep based on over-expectations."
"Acer needs to learn from its past," Shih said. "There's a need for the company to stay cautious toward the market and avoid any further waste of resources."
The company's consolidated revenue for last year has dropped by 16.16 percent year-on-year to NT$360.19 billion (US$11.99 billion), the steepest decline among the world's top five PC makers.
"We are now facing a quite challenging situation. It's not easy for anyone or any company to deal with such a challenge," Chen said.
The company's shares closed down 0.81 percent at NT$18.45 yesterday.
Additional reporting by CNA
Comments will be moderated. Keep comments relevant to the article. Remarks containing abusive and obscene language, personal attacks of any kind or promotion will be removed and the user banned. Final decision will be at the discretion of the Taipei Times.