Commission delays launch of T-shares
PRECEDENT: The delay of the launch marked the first time the Financial Supervisory Commission chairman voiced reservations about policy measures set by predecessors
The Financial Supervisory Commission (FSC) yesterday confirmed it has delayed the launch of T-shares, or the primary listing of companies incorporated in China, due to concerns over transparency, accountability and governance barriers.
"It is unlikely we will see the creation of T-shares in the main bourse in the foreseeable future as bilateral regulators have yet to schedule talks over listing details," FSC Secretary-General Lin Tung-liang (林棟樑) said by telephone.
Lin's confirmation came after FSC Chairman William Tseng (曾銘宗) said on Monday that the commission has decided to slow down its push for T-shares until a task force meets its Chinese counterpart at the end of this year, at the earliest.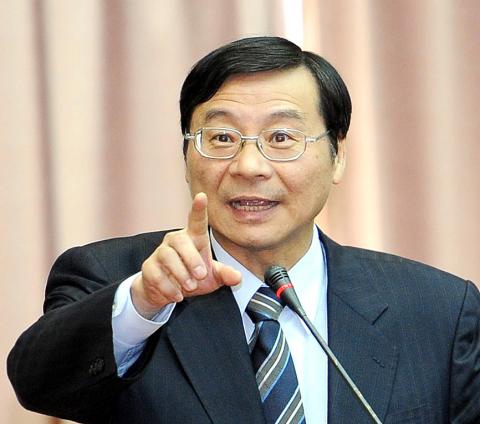 FSC Chairman William Tseng gestures during a press conference in Taipei in an undated photograph.
Photo: Famg Bin-chao, Taipei Times
CHALLENGING
The two sides have yet to work out the definition of T-shares and details involving auditing and supervision are time-consuming and challenging, Tseng said.
It is the first time Tseng voiced reservations about policy measures set by his predecessors since he took over the helm of the commission in early August.
Former premier Sean Chen (陳?) in October last year proposed the concept with a view to invigorating the local capital market.
The T-share plan aims to attract reputable China-registered companies to list on the local bourse.
Cross-strait securities officials expressed support during their first-ever talks in Taipei in January.
NO TIMETABLE
The commission does not have a timetable for T-share listing, as the commission has to be cautious to protect the rights of local investors, Tseng said, adding that the two sides also have to settle accounting, taxation and potential legal issues.
"The matters involved are complicated and there is no need to rush," Tseng said.
Currently, Taiwan does not allow China-registered companies a primary or secondary listing, although foreign firms in which Chinese control stakes of more than 30 percent can issue Taiwan depositary receipts (TDRs).
LESS LIQUIDITY
Morgan Stanley said earlier it will be difficult for Taiwan to attract China-registered companies for T-share listings, as the local bourse has less liquidity than China's A-share market.
Companies hoping to list on the Taiwan Stock Exchange must obtain approval from Chinese authorities and it remains to be seen whether they would give their approval, Morgan Stanley said.
Taiwan Stock Exchange Corp (TWSE, 台灣證券交易所) said the agency is seeking special approval for Chinese firms to raise funds in Taiwan next year, as part of its effort to expand stock trading volume.
The commission said it would continue to welcome foreign companies to issue TDRs in Taiwan, but will strengthen the screening responsibility of underwriters.
Comments will be moderated. Keep comments relevant to the article. Remarks containing abusive and obscene language, personal attacks of any kind or promotion will be removed and the user banned. Final decision will be at the discretion of the Taipei Times.