New technologies unearth minerals under deep cover
From intelligent drills to analyzing gum tree leaves, an unprecedented push to develop new methods and technologies promises to transform the way miners explore for deposits, allowing them to dig deeper, faster and more cheaply.
The results could ultimately unlock so-called "covered" deposits: riches hidden under hundreds of meters of soil, rock or seawater, sometimes in or near previously explored areas.
That could reverse the steady shift away from mining regions such as Australia and Canada, to untested, frontier areas in the search for the next blockbuster find.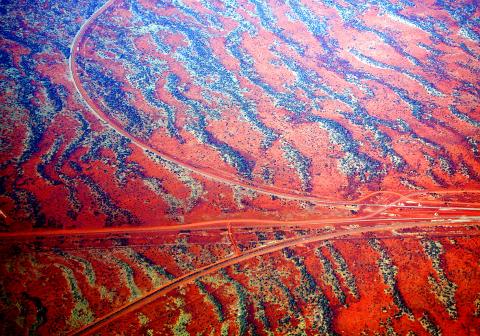 A picture taken on Monday shows roads going off in various directions in the Pilbara region of Western Australia State, which has the world's largest known deposits of iron ore and supplies nearly 45 percent of global trade in the mineral.
Photo: Reuters
Many flagship mines are aging, producing increasingly less metal for every tonne of ore pulled out of the ground. This has driven up costs and prompted companies to explore new parts of Africa or Asia, despite the additional political risks.
"Deposits are becoming increasingly hard to find, and both the technology that we have available to us and the approaches are less useful when exploring deeper deposits," said Dean Collett, a geoscience consultant working with Australia's UNCOVER initiative, which promotes the exploration of covered areas. "The industry needs technology and improved geological insight to crack this."
Change could now be closer thanks to a string of academic, government, company and combined initiatives like UNCOVER, with many borrowing from innovation in the oil and gas industry as it is already drilling far deeper than a few decades ago.
For example, approximately 80 percent of Australia is under cover, which means that the overwhelming majority of exploration and mining activity — 90 percent by some estimates — has been carried out on only a small portion of the vast country, on the slice where rocks above ground hint at the riches below.
"The laws of probability say that there must be an equal proportion of deposits sat under that cover. There is nothing unique about the geology that is sticking out — it just happened to be higher than the rest," said Stephen McIntosh, head of exploration at mining giant Rio Tinto Group.
"There have to be a lot more plums in the plum pudding as we advance through depth and we are starting to see that," he added.
Many in the mining industry compare the potential change to that seen in oil exploration in the Gulf of Mexico. Thirty or more years ago, it was known as the "Dead Sea," as shallow wells began to run dry and companies could not tap oil in deep water.
It has since boomed thanks to seismic equipment — some of it now used in new mining initiatives — that allowed explorers to penetrate layers of rock, while engineering innovations transformed the ability to drill at depth.
For countries like Australia and Canada, it is about reversing exploration decline on their turf. Currently, 80 percent of Australia's production comes from mines that were discovered more than 30 years ago.
For miners, even at a time of belt-tightening, it is about securing future supply, satisfying the investor push to get more out of every dollar spent hunting for new mines — potentially altering a balance that has seen miners prefer to tackle political risk than technical challenges.
Initiatives ranging from improving geophysical and geochemical techniques — including the measurement of metal traces in eucalyptus leaves and kangaroo excrement, as well as some methods first developed as long ago as World War II to track submarines — are already transforming how exploration works.
Analysis of so-called "roo poo" may give insights into the minerals that are contained in the plants that kangaroos have fed on and are then concentrated in the animal itself.
For example, Superconducting Quantum Interference Devices are sensitive magnetic sensors that can detect deep, magnetic sulphide ore bodies and distinguish them from other conductive material, like rock. Versions of the technology have already been put to use by companies like mining giant Anglo American PLC in exploration in Finland under sediment deposited by glacial ice, contributing to a significant find.
Similarly, the Las Cruces copper deposit in Spain, now part of First Quantum Minerals Ltd, was discovered through anomalies in gravity measurements that led the exploration team past where the Iberian pyrite belt — which crosses Portugal and Spain — was thought to end.
Furthermore, the British Geological Survey is using small aircraft to gather magnetic and radiometric measurements across the southwest of England, including Cornwall and Devon, where tin, copper and other metals were mined for centuries.
"This survey will give us a pretty good idea of how much modern technology will reveal, over and above what is already known, in a pretty intensively studied area," Neill Wood of the Camborne School of Mines at the University of Exeter said.
A large part will be not just about identifying deposits and increasing the ability to "see" underground, but about being able to drill at reasonable cost. Drilling a deposit 2.5km below the surface can, depending on the contract and location, cost US$500 per meter — an almost prohibitive charge.
Australia's Deep Exploration Technologies Cooperative Research Centre, a government and industry-backed effort to cut that cost and speed up deep drilling, has worked on prototypes including a coiled tubing rig.
This uses a reel of tubing and eliminates the manual handling of drill rods — which is costly and dangerous — and it has a motor at the bottom of the hole, cutting fuel costs.
Research there also aims to help teams analyze findings immediately rather than having to extract meters of core, or sample tubes of rock pulled out and sent off-site for tests.
"Hopefully this can mean a quantum change in the way we explore at depth," center chief executive Richard Hillis said. "You'll have several shots at finding the needle in the haystack and try and move towards it, rather than one shot."
For the industry's major players, the appeal is an ability to combine approaches: deeper exploration and better visibility in covered areas, but also traditional methods in existing regions.
"In Chile, for example, there have been quite a lot of recent discoveries in old mining districts. Some of these areas that are considered mature and well-explored," said Tracey Kerr, head of exploration at Anglo American. "I think you have to be a little more open-minded about the potential."
Comments will be moderated. Keep comments relevant to the article. Remarks containing abusive and obscene language, personal attacks of any kind or promotion will be removed and the user banned. Final decision will be at the discretion of the Taipei Times.