Alibaba slams HK exchange after IPO talks fail
BILLION DOLLAR BABY: The firm could now list on the New York Stock Exchange for US$100 billion, dwarfing Twitter's US$10 billion public offering, analysts said
A senior Alibaba (阿里巴巴) executive has criticized the Hong Kong stock exchange for not allowing the Chinese e-commerce giant to go public with its unique management structure.
The firm dropped plans this week to hold an IPO in the territory's financial center because the stock market was not willing to make an exception to its listing rules. Instead, it is looking to New York for an initial public offering that analysts estimate may value it at more than US$100 billion.
That would dwarf the tech world's other hotly anticipated share offering by Twitter, which is estimated to have a market value of US$10 billion.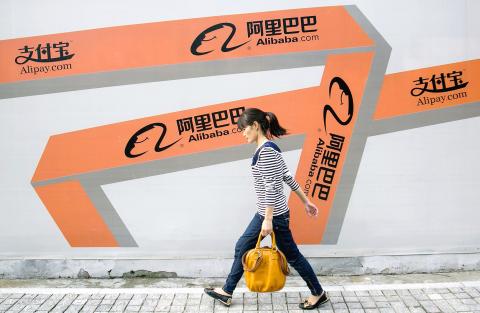 A woman walks past an Alibaba advertisement on a wall in Hangzhou, Zhejiang Province, China, on Thursday. Chinese e-commerce giant Alibaba Group Holding Ltd will pursue an IPO in the US, a move bound to set off a dogfight between the two main US stock exchanges for the offering.
Photo: Reuters
In a column posted late on Thursday on Alibaba's blog, vice chairman Joe Tsai (蔡崇信) said "Hong Kong must consider what is needed in order to adapt to future trends and changes."
"The question Hong Kong must address is whether it is ready to look forward as the rest of the world passes it by," he said.
Tsai said the company had ended its discussions for a potential listing. It is the first public acknowledgement that it has dropped its plans for an IPO in Hong Kong, which Tsai said was the company's "first choice" because most of its business is in China.
Hangzhou, China-based Alibaba failed to persuade the Hong Kong stock exchange to grant it an exception from listing rules to allow it to maintain a "partnership" structure in which top executives, who own 10 percent of the company, retain control of the board.
Chairman Jack Ma (馬雲) has described the partnership system, which currently includes 28 people, as essential to preserving the company's innovative culture.
Alibaba's biggest shareholders have backed its partnership structure.
Yesterday, Alibaba received the backing of both Japanese wireless carrier SoftBank Corp and Yahoo Inc, its two largest shareholders with stakes of 36.7 percent and 24 percent, respectively.
"Alibaba has built a phenomenal business and created tremendous value for its shareholders over the years," Softbank CEO Masayoshi Son said in a statement. "We are therefore very supportive of the Alibaba partnership structure."
In a brief statement, Jacqueline Reses, chief development officer at Yahoo and an Alibaba board member, said: "In a fast-moving technology market, it's critical that a company's leadership can continue to preserve its culture and set its strategic course for the future. As one of Alibaba's largest shareholders, Yahoo believes that management's efforts reflect the desire to govern the company for long-term success, while also balancing the rights of shareholders."
Comments will be moderated. Keep comments relevant to the article. Remarks containing abusive and obscene language, personal attacks of any kind or promotion will be removed and the user banned. Final decision will be at the discretion of the Taipei Times.