Samsung leads Q2 smartphone sales
Worldwide smartphone sales outpaced those for feature phones in the second quarter of the year, with Samsung retaining its leading position in the market, market researcher Gartner Inc said yesterday.
"Smartphones accounted for 51.8 percent of mobile phone sales in the second quarter of 2013, resulting in smartphone sales surpassing feature phone sales for the first time," Anshul Gupta, a principal research analyst at Gartner, said in a statement.
Gartner's latest report, which based its measurement on sales of mobile handsets to end users instead of shipments by handset makers, showed global smartphone sales totaled 225 million units in the three months through June, while worldwide feature phone sales reached 210 million units in the quarter.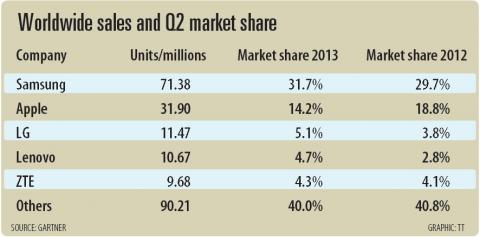 As smartphone sales grew in all regions last quarter, total sales increased 46.5 percent from the second quarter last year, while global feature phone sales contracted 21 percent last quarter from a year earlier, dragging down the total mobile phone sales to grow just 3.6 percent year-on-year to 435 million units in the quarter, Gartner said.
For the whole of this year, the researcher maintained its June forecast for worldwide mobile phone sales to increase 4.3 percent, from 1.75 billion units last year to 1.82 billion units.
"With second quarter of 2013 sales broadly on track, we see little need to adjust our expectations," Gupta said. "Flagship devices brought to market in time for the holidays, and the continued price reduction of smartphones will drive consumer adoption in the second half of the year."
Next year, global mobile phone sales are expected to reach 1.9 billion units, up 4.39 percent from this year, Gartner forecast on June 24.
The latest report showed that Samsung Electronics Co, maker of the Galaxy-series Android phones, led the global market in the April-to-June period with a share of 31.7 percent, outperforming iPhone maker Apple Inc's 14.2 percent.
The South Korean company was also the champion in the overall mobile phone market last quarter with 107.53 million units, ahead of the Lumia phone maker Nokia Oyj, which sold 60.95 million units around the world, the report showed.
However, Samsung would need to step up its presence in the mid-end phone segment and become more aggressive in emerging markets to maintain its leadership, the market researcher said.
"Innovation cannot be limited to the high end," Gupta said.
Meanwhile, China's Lenovo Group Ltd (聯想) jumped to the No. 4 position in the worldwide smartphone market for the first time last quarter, after sales grew 144 percent year-on-year on booming demand in its home market. That Chinese demand represents more than 95 percent of its overall sales, but also a challenge for Lenovo to reach out elsewhere in the world, Gartner said.
In terms of smartphone operating systems, the report showed that Google Inc's Android operating system grabbed a bigger market share of 79 percent last quarter, compared with the 64.2 percent a year ago, while Apple's iOS saw its market share decline to 14.2 percent from 18.8 percent over the same period.
Gartner said Microsoft Corp's Windows Phone operating system outranked BlackBerry for the first time in the second quarter as the third-largest with 3.3 percent market share. Gupta said Microsoft should continue to focus on growing interest from app developers to help grow its appeal among users.
Comments will be moderated. Keep comments relevant to the article. Remarks containing abusive and obscene language, personal attacks of any kind or promotion will be removed and the user banned. Final decision will be at the discretion of the Taipei Times.