Japan's economy slows April to June
Japan's economy slowed last quarter, data showed yesterday, raising questions about whether Tokyo would go ahead with sales tax hikes that some fear could derail its bid to stoke growth.
The new figures painted a mixed picture of firming consumer consumption, but little evidence that companies are confident enough to start spending big on new investment and hiring more workers.
"Private investment was quite weak, which is one of the main factors behind the slower-than-expected growth," Japan Research Institute analyst Hideki Matsumura said.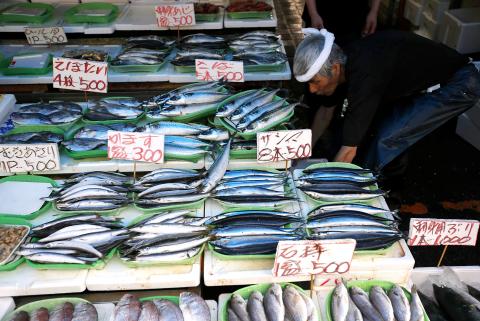 A fishmonger tends to his store in Tokyo, Japan, yesterday. Japan's economy grew an annualized 2.6 percent in the April-to-June period, a third straight quarter of expansion, but slower than analysts had expected.
Photo: Reuters
Matsumura added that "growth was not so bad and it is expected to get better in the coming quarters, thanks to the weak yen and other encouraging factors."
"It is still strong enough to let the government introduce the planned tax hike, but that is sensitive politically. A final decision will be based on politics, not the economy," Matsumura said.
The Cabinet office yesterday said the economy expanded by weaker-than-expected 0.6 percent from the previous quarter, from a revised 0.9 percent increase between January and March.
The pace of expansion also slowed on an annualized basis with a 2.6 percent increase, from a revised 3.8 percent jump in the first quarter.
Also yesterday, revised industrial production data for June which showed a surprise drop in factory output was not as bad as previously thought with production down 3.1 percent rather than 3.3 percent.
Japanese Prime Minister Shinzo Abe and his economy minister put an upbeat spin on the results yesterday, saying tax increases approved by the previous administration were still on the table.
"The economy is picking up," Abe said, pointing to "further growth strategies this autumn" without elaborating.
Japanese Minister of Economics, Trade and Industry Akira Amari added that GDP figures were key for pulling the trigger on any tax hikes.
"The prime minister will make a final decision this autumn," he said.
Japanese officials are playing a delicate balancing act by addressing worries over a mounting national debt — proportionately the worst among industrialized nations — while using big government spending and central bank monetary easing in a bid to kickstart growth and conquer deflation. Last week, the IMF called on Tokyo to come up with a "credible" plan to balance its books, as the Bank of Japan left unchanged a vast monetary easing plan which is a key part of Tokyo's bid to breathe new life into the economy.
The idea is to get consumers spending again. Falling prices have held back growth for years as households put off purchases in the hopes of getting them cheaper down the road, which in turn hurt producers and held back new hiring and investment. Wages have barely budged, although some firms have announced recent salary hikes.
"Consumption has gotten better on spending on some luxury items, but things will really take off when a rise in disposable income starts a virtuous cycle of consumption," Sei Sugimoto, head of investment planning at Mitsui Life Insurance, told Dow Jones Newswires.
Comments will be moderated. Keep comments relevant to the article. Remarks containing abusive and obscene language, personal attacks of any kind or promotion will be removed and the user banned. Final decision will be at the discretion of the Taipei Times.