Google Inc launches open data platform to share data about natural disasters
Google Inc launched an open data platform yesterday to share information on natural disasters in Taiwan such as typhoons and floods, with the aim of building the country into a model area for the cloud computing-based system.
Taiwan is the second Asian country to adopt the platform in partnership with government authorities after a similar launch in Japan in March this year, Google Taiwan managing director Chien Lee-feng (簡立峰) said.
"This represents Google's commitment to Taiwanese users and shows the government's efforts to release open data and build a more localized crisis response system," Chien said at a press conference to announce the platform.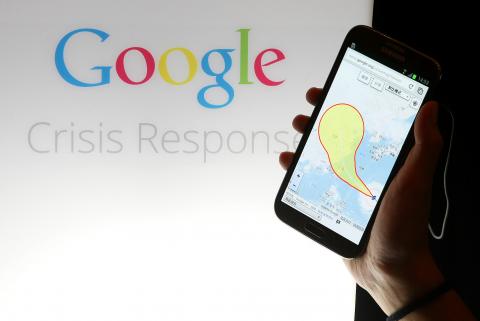 Google Inc launches its Crisis Response platform in Taiwan at a press conference in Taipei yesterday. The open data platform is set to share information on natural disasters such as typhoons and floods in the country.
Photo: CNA
For example, when a typhoon strikes Taiwan, people will be able to access the platform through Google Maps or Google Search services on computers or mobile devices to find information such as the typhoon path, affected areas and nearby places of refuge.
Users can also share disaster information on social network sites such as Facebook or Google Plus, Google said.
"As Taiwan heads into another typhoon season, the need for reliable and easily accessible information about where the next storm will hit and how to stay safe has never been more important. That's why we're launching Google Public Alerts and a dedicated Google Crisis Map for Taiwan," the global search engine giant said in a blog. "Starting today, relevant severe weather alerts for typhoons and flood-related events in Taiwan will appear on the Google Public Alerts page as well as on Google Search, Google Maps and Google Now."
The data will be provided by government agencies including the Central Weather Bureau, the Water Resources Agency, the Soil and Water Conservation Bureau, the Directorate General of Highways and the National Science and Technology Center for Disaster Reduction.
Minister Without Portfolio Simon Chang (張善政), a former Google executive, said at the press conference that with this crisis response platform, the government expects to help more people avoid the upheaval brought by natural disasters.
He said that Google and the government are also working on an open data system for earthquake information that will be integrated into the crisis alert platform in the future.
Comments will be moderated. Keep comments relevant to the article. Remarks containing abusive and obscene language, personal attacks of any kind or promotion will be removed and the user banned. Final decision will be at the discretion of the Taipei Times.