TSMC raises Q2 forecasts after beating Q1 estimates
POSITIVE THINKING: The chipmaker's upward revision of second-quarter revenue growth and gross margins surpassed analysts' estimates, who predicted much smaller rises
Taiwan Semiconductor Manufacturing Co (TSMC, 台積電), the world's top contract chipmaker, yesterday issued a surprisingly strong revenue growth forecast for the current quarter, which it said was supported by robust chip demand for mobile devices in China and emerging markets and better-than-expected quarterly profits.
Amid a slew of positive announcements made by the chipmaker, TSMC again elevated its capital spending to record-breaking levels, increasing spending to between US$9.5 billion and US$10 billion, up from the US$9 billion it had estimated three months ago to quicken the ramp-up of its advanced technologies.
"We had stepped up the proposition for the ramping-up of 20-nanometer and 16-nanometer technologies to pull some capital in," for earlier production, TSMC chairman and chief executive Morris Chang (張忠謀) told investors.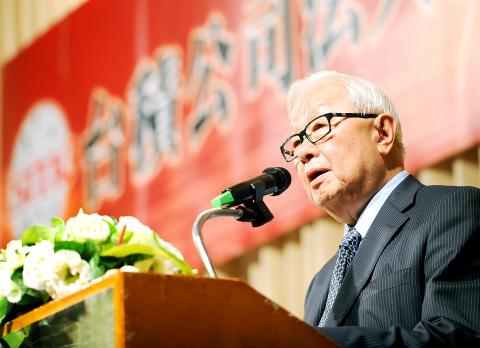 Taiwan Semiconductor Manufacturing Co (TSMC) chairman and CEO Morris Chang delivers a speech yesterday at the company's investors' conference.
Photo: Fang Pin-chao, Taipei Times
TSMC forecast its revenue would soar about 17 percent this quarter to more than NT$156 billion (US$5.22 billion) from last quarter's NT$132.76 billion. TSMC's customers are selling more smartphone chips and gaining shares in China and emerging markets, chief financial executive Lora Ho (何麗梅) said.
More than 50 percent of TSMC's revenue comes from the communications sector. The firm makes smartphone chips for US handset chip supplier Qualcomm Inc and Taiwan's MediaTek Inc (聯發科).
Six months ago, Chang expected that a higher base in the first quarter would make it difficult to see significant second-quarter growth.
"But I found that I was mistaken, as our performances in both [the first and second] quarters have been stronger than usual for the season," Chang said. We attribute this to the strong demand for mobile-related applications and TSMC's strong position in the 28-nanometer technology sector."
Commenting on the growing competition from Intel Corp, Chang said he did not "view Intel as a general foundry [contract chipmaking] competitor. However, they [Intel] are a very serious competitor for our customers."
Chang also raised his forecast of 7 percent annual growth, that he made three months ago, to 10 percent. TSMC would outpace the sector this year, as usual, he said.
Analysts did not seem to be quite as optimistic about the future, with Deutsche Bank analyst Michael Chou (周立中) yesterday saying "the revenue forecast is significantly higher than most analysts' expectations."
Both Chou and Daiwa Capital Markets analyst Eric Chen (陳慧明) expect TSMC's revenue to grow 7 percent sequentially this quarter, while Credit Suisse analyst Randy Abrams forecast a 4 percent rise.
TSMC expected gross margin to exceed 49.5 percent, compared with last quarter's 45.8 percent, which would be the highest level since the fourth quarter of 2010.
In the first quarter, TSMC's net income dropped 4.9 percent sequentially to NT$39.58 billion, or NT$1.53 per share, compared with NT$41.6 billion, or NT$1.61 a share, in the fourth quarter of last year. The figure represents a 18.2 percent annual increase from NT$33.49 billion.
The quarterly results beat most analysts' estimates. Chen had expected TSMC to post a 7 percent quarterly decline in net profit, while Abrams thought TSMC's net profit would fall 5.86 percent quarter-on-quarter to NT$39.16 billion.
Comments will be moderated. Keep comments relevant to the article. Remarks containing abusive and obscene language, personal attacks of any kind or promotion will be removed and the user banned. Final decision will be at the discretion of the Taipei Times.