HK stocks sink on bird flu scare
OUTBREAK WORRIES: Taiwan's markets were closed because of public holidays, but food operators said business has not been affected by the new avian flu scare
Hong Kong shares tumbled to a four-month low yesterday, led by airlines as fears of a bird flu outbreak sparked a broad selloff, with the benchmark index breaking below a key chart support, pointing at further losses ahead.
Traders said the losses was exacerbated by an exit of funds from the territory following the Bank of Japan's unprecedented aggressive monetary easing measures announced on Thursday, when Hong Kong markets were shut for a public holiday.
The benchmark Hang Seng Index fell 610.59 points, or 2.73 percent, to close at 21,726.90 on turnover of HK$77.22 billion (US$9.96 billion).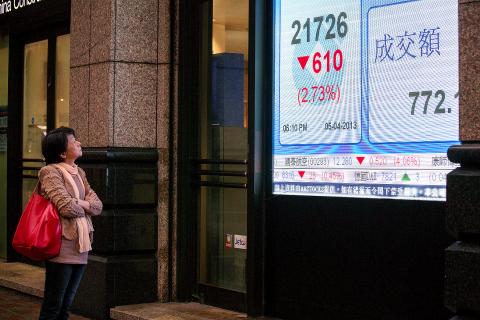 A woman looks at an electronic display showing the closing figure of the Hang Seng Index in Hong Kong yesterday. The index dropped to its lowest level since November last year on concern over a possible avian flu outbreak.
Photo: Bloomberg
The China Enterprises Index of the leading Chinese listings in Hong Kong shed 3.1 percent. It also ended at its lowest point since Nov. 28.
During the shortened week, the indices slid 2.6 and 4.3 percent, respectively.
Stock markets in Taiwan and China stayed shut yesterday for public holidays and will resume trading on Monday.
"Everything is combining today to hurt the market," said Alfred Chan (陳思龍), chief dealer at Cheer Pearl Investment Ltd (緻寶投資) in Hong Kong. "The bird flu issue is at the top of people's minds now."
Chinese authorities were slaughtering birds at a poultry market in the financial hub, Shanghai, as the death toll from a new strain of bird flu grew to six yesterday.
The strain does not appear to be transmitted from human to human, but Hong Kong authorities raised a preliminary alert and said they were taking precautions at the airport. Vietnam banned imports of Chinese poultry.
The 2003 SARS outbreak in Hong Kong and China crippled tourism and brought business activities to a standstill.
Chinese airlines were among the biggest losers amid fears of lower travel demand. Air China Ltd (中國國際航空) slumped 9.8 percent, China Southern Airlines Co (中國南方航空) and China Eastern Airlines Corp (中國東方航空) each dived more than 8 percent.
Hong Kong's Cathay Pacific Airways (國泰航空), which suffered huge losses in 2003, fell 4.1 percent to its lowest since September last year.
In Taiwan, hotels and restaurants yesterday said that the outbreak of the new H7N9 strain of bird flu in China has not affected their business so far, but they are keeping a close eye on developments.
Restaurant chain operator Wowprime Corp (王品) said its business has not seen any impact from the bird flu outbreak, in part because beef rather than chicken is the mainstay of its restaurants.
Fast-food chicken chain KFC Taiwan also confirmed that its business has not been affected, but added that it was watching developments closely because sales in Taiwan were hurt a few years ago during a separate avian flu outbreak in China.
The Grand Hotel (圓山大飯店) said its restaurant sales have not been affected either, but it has put a disinfectant dispenser at the entrance to its restaurants so that guests can disinfect their hands before sitting down.
The hotel has also instructed staffers to watch for guests who have flu symptoms, such as fever and coughing, and take them to be treated at local hospitals.
Comments will be moderated. Keep comments relevant to the article. Remarks containing abusive and obscene language, personal attacks of any kind or promotion will be removed and the user banned. Final decision will be at the discretion of the Taipei Times.