Chain, franchise firms eyeing world market
EXPANSION: Before going into franchising, companies must make sure they could generate enough profit to cover costs and provide quick personnel training
Following their success at home, an increasing number of Taiwanese food and beverage operators are looking overseas in the hope of developing into global brands, the Association of Chain and Franchise Promotion Taiwan (台灣連鎖加盟促進協會) said yesterday.
"More Taiwanese chain and franchise players are expanding, with an eye on the global market," association chairman Tom Hsu (許湘鋐) said at the opening ceremony of the Taipei International Chain and Franchise Spring Exhibition.
The four-day trade show features a record 250 brands occupying 620 booths, the association said.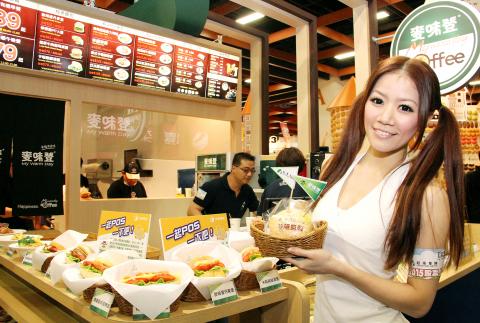 A stallholder shows her wares at the 14th Taipei International Chain and Franchise Spring Exhibition at the Taipei World Trade Center Exhibition Hall 1 yesterday. The show runs through Sunday.
Photo: CNA
Companies participating in the trade show range from breakfast stores and restaurants to tea shops and retail stores, with food and beverage operators accounting for more than half of the brands showcased.
Hsu said the fair, which runs through Sunday, offers an opportunity for Taiwanese chain and franchise companies to boost their international presence.
For example, OCOCO International Co Ltd (億可國際飲食), which operates bubble tea chain Coco Fresh Tea & Juice (都可茶飲), said it this year offers overseas franchise opportunities, while another bubble tea chain Chatime (日出茶太), managed by La Kaffa International Co Ltd (六角國際事業), said it would provide domestic franchise opportunities this year.
Vice President Wu Den-yih (吳敦義), who also attended yesterday's opening ceremony, praised the chain and franchise sector for providing growth momentum for the economy.
"The industry generates about NT$800 billion in sales per year," Wu said.
However, Hsu also advised caution for companies interested in branching out into chains or franchises, saying they should ensure they could generate enough gross profit to cover management costs.
These companies must also be capable of training employees quickly to keep pace with rapid store expansions, he said.
The association expects the show to attract 130,000 visitors, he added.
Meanwhile, speaking at a business forum on Wednesday, Walter Yeh (葉明水), an executive vice president at Taiwan External Trade Development Council (TAITRA), said that Taiwanese chain and franchise operators should think global and expand overseas to boost growth in the service sector.
Yeh said TAITRA had helped many local chain operators open new stores abroad last year, with 60 percent investing in China and others targeting markets such as Indonesia, the UK and Germany.
Taiwan has more than 2,000 franchise and chain operators, but only 140 of them conduct business abroad, he said.
Bureau of Foreign Trade Director-General Chang Chun-fu (張俊福) told the same forum that Taiwan's franchise and chain sector, which has more operators than any country in the world except for South Korea, the US and China, has been a big contributor to the nation's economy.
Domestic franchise and chain operators generated revenues of NT$1.75 trillion (US$58.6 billion) last year, accounting for 50 percent of the nation's retail and food sector sales and 25 percent of the service sector's sales as a whole, Chang said.
Comments will be moderated. Keep comments relevant to the article. Remarks containing abusive and obscene language, personal attacks of any kind or promotion will be removed and the user banned. Final decision will be at the discretion of the Taipei Times.