HP sets new labor rules for China suppliers
RAISING THE BAR: Hewlett-Packard said the guidelines are meant to ensure its Chinese suppliers do not lean too heavily on interns and temporary workers to save money
Hewlett-Packard Co (HP), the world's largest personal computer maker, is vowing to crack down on its Chinese suppliers in an effort to reduce the use of low-paid student interns and other temporary workers.
The guidelines unveiled on Friday are the latest attempt by a major US technology company to weed out labor abuses at Chinese factories that manufacture the gadgets for an Internet-connected world.
HP, which is based in Palo Alto, California, said its new standards are meant to ensure that its Chinese suppliers do not lean too heavily on student interns and temporary workers as a way to save money. The company says it wants to protect workers' rights when they are hired.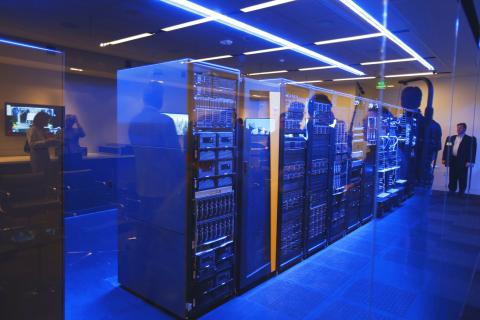 People peer into a server room during the grand opening of Hewlett-Packard's Executive Briefing Center in Palo Alto, California, on Jan. 16.
Photo: Reuters
The new standards come a few months after Hon Hai Precision Industry Co (鴻海精密), a major Taiwanese manufacturer better known as Foxconn Technology Group (富士康科技集團), acknowledged that it has hired interns as young as 14.
Both HP and Apple Inc, the maker of iPhones, iPads and Mac computers, rely on Foxconn to make some of their products.
Apple, which is based in Cupertino, California, has also been trying to reform the labor practices at Foxconn and other Chinese suppliers in recent years in response to scathing criticism about the inhumane treatment of the workers making devices that have become status symbols, as well as multipurpose tools for communicating, reading, watching video and taking pictures.
Among other things, HP said it hopes its rules will prod its Chinese suppliers to employ mostly full-time workers instead of exploiting interns and temporary employees.
When interns and temps are used, HP said it will insist they are not forced to remain on the job against their will and have the right to file grievances. The company also pledged to ensure intern hours are kept well below the legal limit.
To show it is serious, HP intends to review the labor practices at its Chinese suppliers more frequently.
HP boasts an extensive supply chain that spans more than 45 countries and territories. The company's stock gained US$0.41, or 2.5 percent, to US$16.85 in afternoon trading on Friday. The shares have traded in a 52-week range of US$11.35 to US$30.
Comments will be moderated. Keep comments relevant to the article. Remarks containing abusive and obscene language, personal attacks of any kind or promotion will be removed and the user banned. Final decision will be at the discretion of the Taipei Times.