Bank of Korea's Moon in no rush on interest rates
Bank of Korea board member Moon Woo-sik sees no immediate need to alter benchmark interest rates and says it is "too early" for any central bank response to the yen's slide against the South Korean won.
"There are good reasons why people tend to be more optimistic this year than last year," Moon, 52, said in an interview in Seoul last week.
There is no "important reason to take monetary-policy actions quickly" unless the South Korean economy declines further, he said.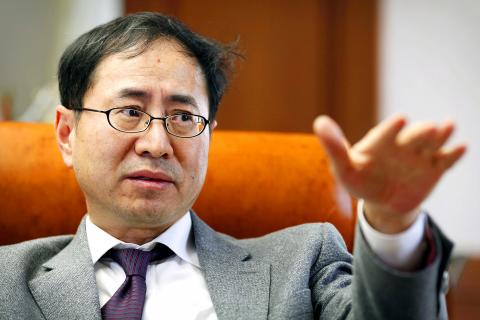 Moon Woo-sik, Bank of Korea board member, is interviewed at his office at the central bank's headquarters in Seoul, South Korea, on Thursday.
Photo: Bloomberg
Central bank policymakers meet on Thursday next week to set rates as Hyundai Motor Co and Samsung Electronics Co grapple with won gains and the likelihood of economic and fiscal policy shifts after the scheduled Feb. 25 inauguration of South Korean president-elect Park Geun-hye.
Moon said business confidence and investment may gain in South Korea as risks recede from Europe's debt crisis and the so-called "fiscal cliff" of spending cuts and tax increases in the US.
Policymakers need to "wait and see" as South Korea's economy shows signs of improving after already hitting bottom, Moon said. "I don't think we're in a very urgent situation."
The South Korean won extended gains after Moon's comments, rising 1.2 percent to 1,084.78 won per US dollar in Seoul, the biggest advance since December 2011, according to data compiled by Bloomberg.
It depreciated 3.9 percent in the last three weeks and touched 1,098.25 to the US dollar on Friday, the weakest level since Oct. 26 last year.
The won strengthened 1.5 percent to 11.71 won against the Japanese yen yesterday, the most since June last year, adding to gains in seven of the past eight weeks.
While a rate increase is unlikely in the "very near future," it could become possible if the economy shows unexpected strength and inflation picks up, Moon said. South Korea is likely to "coordinate to some extent" when central banks globally exit from loose monetary policies, he added.
Moon's view contrasts with Royal Bank of Scotland Group PLC last month forecasting an interest-rate reduction at the next meeting after the central bank pared its forecast for this year's economic growth to 2.8 percent from an estimate of 3.2 percent in October last year. Analysts at HSBC Holdings PLC and Barclays Capital forecast no change.
Japanese Prime Minister Shinzo Abe's campaign to expand monetary easing and revive his nation's economy is driving down the yen, aiding exports of electronics and automobiles in competition with South Korea. The won has gained about 22 percent against the yen in six months.
"We have good reason to be worried about rapid depreciation of the yen," Moon said.
At the same time, "it is too early" for the Bank of Korea to consider taking any action, he said, adding that policymakers will monitor currency volatility for any effects on economic and price stability.
Comments will be moderated. Keep comments relevant to the article. Remarks containing abusive and obscene language, personal attacks of any kind or promotion will be removed and the user banned. Final decision will be at the discretion of the Taipei Times.