Philippine economy grew 7.1% in Q3
The Philippines yesterday said the economy grew 7.1 percent year-on-year in the three months to September, making it the best performer in Southeast Asia and putting it on track to beat its annual forecast.
Officials said reforms initiated by Philippine President Benigno Aquino III had led to improved fiscal management, transparent public spending and a better overall business environment that all helped to fuel growth.
"This was made possible due to sustained confidence in the leadership of President Aquino and his administration, which has consistently equated good governance with good economics," Aquino spokesman Edwin Lacierda said.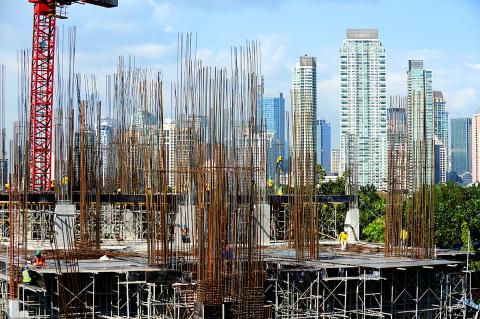 Employees work at a construction site in Manila, Philippines, yesterday.
Photo: AFP
Aquino, elected in 2010, has instituted anti-corruption reforms while seeking to boost revenues and improve government spending.
As a result, the Philippines, once an economic laggard, posted higher growth in the third quarter than Indonesia, the region's biggest economy, which grew 6.2 percent, Lacierda said. It also beat Malaysia's 5.2 percent, Vietnam's 4.7 percent and Thailand's 3 percent growth, he told reporters.
The July-September performance also helped push growth in the first nine months of the year to 6.5 percent, Lacierda added.
Government economists said full-year growth would likely surpass their original forecast of 5 percent to 6 percent and could even hit near 7 percent.
HSBC Bank economist Trinh Nguyen credited "timely policy actions" of the central bank and the government to deal with falling demand from China and Europe as well as the "resilient" nature of the Philippine economy.
"There is no denying it, the Philippines is having a fantastic year despite strong global headwinds," she said in a report.
Philippine Budget Secretary Florencio Abad said the latest indicators showed that the country faced "very fruitful times ahead" with low inflation and interest rates and increased confidence in government reforms.
He added that this would improve the country's credit rating further.
Comments will be moderated. Keep comments relevant to the article. Remarks containing abusive and obscene language, personal attacks of any kind or promotion will be removed and the user banned. Final decision will be at the discretion of the Taipei Times.