Spanish migration to Latin America surges as recession bites
After joining the eurozone in 1999, Spain's economic boom made it the land of opportunity for millions of Latin American migrant workers.
However, since the decade-long boom turned to bust roughly four years ago, many of those immigrants have returned, joined by a growing number of disillusioned Spaniards who hope that Latin America, with its developing economies and low cost of living, has more to offer.
Spaniards are traditionally reluctant to emigrate and they are among the least likely in Europe to go abroad for work. However, with the unemployment rate at 25 percent, more Spaniards are ready to leave behind the comforts of home.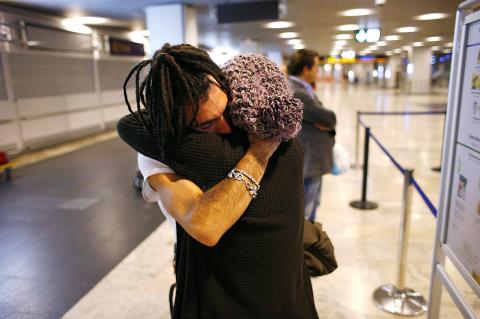 Olmo del Paso, left, and his girlfriend, Marta Perez, say their goodbyes at Madrid's Barajas airport on Tuesday last week. Del Paso is a cameraman who left Spain for Uruguay this month after being jobless for more than two years.
Photo: Reuters
"Europe has gone down the toilet," said 45-year-old Xavi Berdala, a former photographer from Barcelona who moved to Mexico in July to open a pizza restaurant. "People now see Latin America with more respect, more possibilities."
Roughly 370,000 people emigrated from Spain last year, 10 times more than before the economy tanked in 2008. Although about 86 percent of them were naturalized immigrants born abroad, there is also a growing number of native Spaniards saying "ya basta" ("enough is enough"). More than 50,000 left last year, up 80 percent since before the crisis hit.
More than 9,000 went to Latin America, up from about 3,600 in 2006, said Jesus Fernandez Huertas of Spanish think tank Fedea, citing data from the national statistics office.
HIGH UNEMPLOYMENT
The reasons for leaving are clear. Spain's economy is in recession for the second time since 2009 and half of all residents under 25 who are looking for work cannot find a job.
More than one in five people live below the poverty line and unemployment benefits end after a maximum of 30 months.
"The situation in Spain won't get better for another five years at least," said Olmo del Paso, a cameraman who left Spain for Uruguay this month after being jobless for more than two years and being forced to move back into his mother's house in the small northern town of Palencia.
When a hotel in Montevideo, Uruguay, offered him a job as caretaker over the summer months, the 34-year-old bought a one-way ticket and packed his bags.
"I'm nervous leaving my family and friends," he said. "But I can't carry on like this. I have to at least try."
Spain has based its budget plan for next year on a recession of 0.5 percent, but most economists say it is wildly optimistic. The IMF expects the economy to contract 1.5 percent this year and 1.3 percent next year.
By contrast, the IMF envisages a 3.9 percent expansion next year across Latin America and the Caribbean.
Between 2007 and last year, the number of Spaniards emigrating to Chile rose by 144 percent, to Mexico by 129 percent, to Venezuela by 114 percent and to Portuguese-speaking Brazil, the biggest economy in Latin America, by 227 percent.
The number leaving for Ecuador soared 467 percent. Ecuadoran migrants had swarmed to Spain to work in the booming construction industry and, now that it is in crisis, many are returning, some with Spanish-born partners and children.
"It's sad that the Ecuadorans are coming home, because they went to Spain for the same reasons I came here. Because there's no work and life is tough," said Miguel Sanchez, a 42-year-old former building site foreman who moved with his Ecuadoran wife and son to Ecuador in 2010.
In Spain, he went without work for eight months after the housing bubble, fed by cheap loans, burst in 2008, sending shock waves throughout the economy. In Ecuador, he is now a bodyguard for a local businessman in the city of Guayaquil.
Far fewer Latin Americans are heading to Spain. In 2007, almost 314,000 were granted residency and by last year that was down to 119,416, according to official data.
Spain, the eurozone's fourth-largest economy and the current focus of its almost three-year-long debt crisis, is under intense pressure to reduce its public deficit and prove to nervous investors it can put its finances in order.
Spanish Prime Minister Mariano Rajoy, in power since December, has responded to the national crisis by slashing spending. That has cut deeply in to education, training schemes and state-supported internships.
Critics say the policies will push Spain deeper into recession and optimists concede that things will get worse before they get better.
"The best solution for younger unemployed is unfortunately to leave Spain," JP Morgan said in a note.
Some of the young are listening. The vast majority of those leaving Spain are between 20 and 40 years old.
From 2000, Spain's population showed solid annual growth, almost entirely due to immigration, but the pace dropped sharply in 2008 and it began to shrink last year. Some estimates suggest its 46 million population could fall by 1 million by 2020.
FRANCO YEARS
During the dictatorship of General Francisco Franco, from the end of the civil war in 1936 to his death in 1975, hundreds of thousands of people fled oppression to Europe and the Americas.
The recent jump in Spanish emigration has prompted some to draw parallels, although that's a stretch.
"It's ridiculous to call this an exodus as it doesn't compare to the enormous levels of emigration in the years following the civil war and in the late [19]60s," Fernandez Huertas said. "But the speed of the rise is certainly noteworthy."
Massive population drains can often be detrimental to an economy, but with the outlook already grim, it may help.
"It might net a positive if they're going to be sending remittances back to their families," said Bill Adams, senior international economist for US-based bank PNC. "It's a strange inversion to think of Spanish immigrants in Latin America sending remittances back to Spain."
Between 2007 and last year, remittances to Spain by Spanish migrants rose 7.5 percent to a record 5.7 billion euros (US$7.4 billion).
Nieves Mendez, a Mexico City dance instructor originally from the Spanish island of Tenerife, emigrated to Mexico when she struggled to find anything better than retail work after graduation.
Back in Spain's Canary Islands, her mother and sister are unemployed. Her grandmother, who lives with them on a monthly pension of 200 euros, cares for Mendez's disabled aunt.
"And I'm here, doing everything I can to send them something, however small," said Mendez, 31. "Just a little so I know they're not doing too badly."
Comments will be moderated. Keep comments relevant to the article. Remarks containing abusive and obscene language, personal attacks of any kind or promotion will be removed and the user banned. Final decision will be at the discretion of the Taipei Times.