Consumer prices rose 1.77% in June
TWIN PRESSURES: High food prices and concern over the effects of utility rate hikes could fuel inflationary expectations and keep consumer prices high, an analyst said
Annual inflation last month expanded at its fastest pace since January on the back of higher food prices and electricity rates, the Directorate-General of Budget, Accounting and Statistics (DGBAS) said yesterday.
The consumer price index (CPI) rose 1.77 percent last month from a year earlier, following a 1.74 percent increase in May. Food prices, which climbed 4.4 percent from a year ago, led the increase, the DGBAS said.
Vegetable and fruit prices surged 30.54 percent and 4.16 percent respectively, as Typhoon Talim and heavy rains struck the nation last month, further cutting supplies and driving up prices, DGBAS said in its monthly report.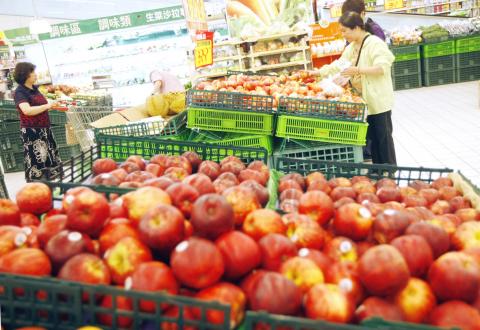 People buy fruit at a supermarket in Taipei yesterday. The Directorate-General of Budget, Accounting and Statistics announced yesterday that the consumer price index rose 1.77 percent to 109.27 last month.
Photo: CNA
"The 30.54 percent year-on-year increase in vegetable prices boosted headline inflation by 0.63 percentage points last month," DGBAS section chief Wang Shu-chuan (王淑娟) told a press conference.
DINE OUT
Spending for eating out also expanded 2.42 percent last month from a year earlier, marking its largest increase since March 2009.
Overall, the rise in food prices lifted headline inflation by 1.23 percentage points last month, Wang added.
Higher food prices also drove up the prices of non-durable goods, which grew 4.12 percent year-on-year last month, the highest level this year, data showed.
The increases in gasoline prices and electricity rates, including summer power rates, further contributed to CPI growth. They directly contributed 0.08 percentage points to the annual growth in inflation last month, Wang said.
Sydney-based Katrina Ell, an associate economist at Moody's Analytics, said she expected food prices to remain elevated in the coming months as supplies slowly recover, further maintaining upward pressure on overall consumer prices.
Consumer expectations that prices could rise further following the hikes in gasoline and power charges could fuel inflationary pressures, she said.
"This will threaten the government's limit of 2 percent annual growth for headline inflation this year," Ell said in a note.
RATE HIKE?
Ell added that she expected the central bank to increase its policy rates by 12.5 basis points in the fourth quarter — from the current 1.875 percent — as demand-side pressures heat up in the near term because of a recovering global economy and a slowing immediate risk from the European debt crisis.
Meanwhile, the wholesale price index (WPI) slid 1.7 percent last month from a year ago, compared with a 0.82 percent annual drop recorded a month ago, the DGBAS said.
For the first half of the year, the WPI rose 0.45 percent from a year earlier, while the CPI was up 1.47 percent year-on-year, data showed.
Comments will be moderated. Keep comments relevant to the article. Remarks containing abusive and obscene language, personal attacks of any kind or promotion will be removed and the user banned. Final decision will be at the discretion of the Taipei Times.