HTC lauds IPR and innovation
Companies have used patents to sue each other to win market share, but smartphone maker HTC Corp (宏達電) believes the possession of intellectual property rights (IPR) can help develop innovation.
HTC chief marketing officer John Wang (王景弘) said yesterday the company had acquired hundreds of patents to make possible the design of a camera on one of its new smartphones that focuses on delivering functions from the perspective of the consumer.
Wang did not elaborate on the details of the patents, either in terms of what they were or where they were acquired from. He also declined to comment on a patent infringement complaint filed by Nokia last month.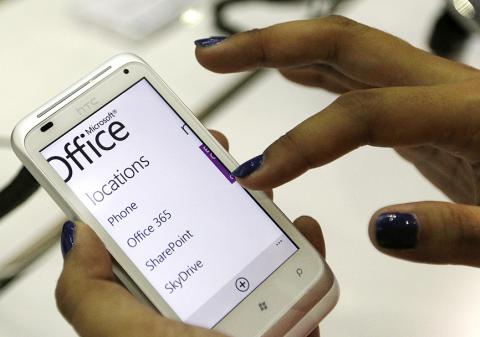 A visitor tries out a HTC Radar smartphone at the Windows Phone section of the Microsoft booth at the Computex exhibition in Taipei on Tuesday.
Photo: Pichi Chuang, Reuters
Last year, HTC spent US$300 million to acquire US-based S3 Graphics Co to bolster its technology capabilities, while Google Inc transferred several patents to HTC to help the Taiwanese company fight a patent battle with iPhone maker Apple Inc.
Addressing the company's product development strategy, Wang said developers have to "see through consumers' eyes, make the impossible possible and deliver pleasant surprises" to put a smile on the face of the consumer.
When a consumer wants to shoot photographs continuously, he or she does not want to do any more than just keep pressing a button and that is what the camera on the new One series phone can do, Wang said at a Computex forum at the Taipei International Convention Center.
He said the camera needs just 0.7 seconds to focus on a subject and no extra button-pressing is needed. That is about the same time or quicker than a person takes to focus on a subject, he said.
"We want the camera to work like the user's eyes," Wang said.
Wang said HTC also looked into how long people take to react to emergencies and the company found that it was also the magic number of 0.7 seconds.
"That's how long the camera takes to get ready to take a picture after it has been activated," he said.
Comments will be moderated. Keep comments relevant to the article. Remarks containing abusive and obscene language, personal attacks of any kind or promotion will be removed and the user banned. Final decision will be at the discretion of the Taipei Times.