Customers revel in iPhone 4S' debut
TAIWAN'S FIRST: A Taichung man was first at Chunghwa Telecom's flagship store in Taipei after taking the high-speed train to claim his spot that a friend saved for him
At about 9:30am yesterday, two male customers held Apple Inc's latest iPhone 4S in a Studio A store next to Vieshow Cinemas (威秀影城) in Taipei's Xinyi District (信義) and asked the smartphone: "Siri, what is the weather in Taipei?" "Siri, what is the time now?" and "Siri, where is Steve Jobs?"
They laughed hard when the phone responded to the last question: "Sorry, I couldn't find the location in Taipei."
A few meters away, Chunghwa Telecom Co (CHT, 中華電信) chairman Lu Shyue-ching (呂學錦) spoke to a group of reporters, hailing Siri as one of the most attractive features of the iPhone 4S.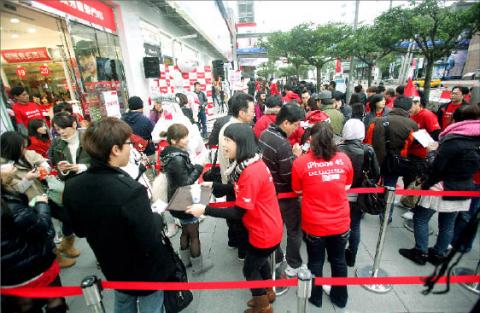 Shoppers line up outside a Far EasTone Telecommunications Co branch in Taipei's Xinyi District yesterday to buy Apple's iPhone 4S.
Photo: CNA
He spoke to the phone: "Call CHT."
The phone immediately called out to someone whose mobile was preset as CHT.
Siri is the headline feature on the new model — a voice-activated virtual assistant that is able to answer your questions in English only.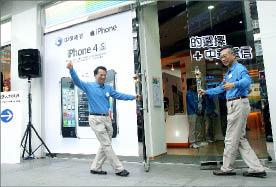 Chunghwa Telecom Co chairman Lu Shyue-ching, left, and president Chang Shiao-tung pretend to be shop assistants as they open the door to one of their branches in Taipei yesterday.
Photo: CNA
Taiwanese consumers finally saw the much-awaited iPhone arrive in town yesterday, after the latest iPhone model made its world debut on Oct. 14 in markets such as the US, Germany, the UK, France, Japan and Australia, followed by the release on Nov. 11 in 15 markets, including Hong Kong and South Korea.
The iPhone 4S release in Hong Kong saw more than 3,000 people camping outside of a flagship store days in advance.
Some people lined up on behalf of others reportedly for HK$500 (US$64.25) a day and many resold the phone for higher prices.
In Taipei, the iPhone 4S' sales started at 9am yesterday in the Vieshow neighborhood, where the nation's three major telecoms operators' flagship stores are located side by side.
However, the crowds were relatively thin and the lines flowed smoothly.
This was because the operators this year had adopted a "pre-booking" system in which they would notify consumers of their pick-up days at more than 1,000 stores nationwide which they could choose from.
The method managed to control the crowds given operators had a limited number of first-batch phones. That was in contrast with September last year, when operators threw debut parties and phone sales at a single venue at midnight to launch the iPhone 4.
The three operators — Chunghwa Telecom, Taiwan Mobile Co (台灣大哥大) and Far EasTone Telecommunications Co (遠傳電信) — declined to say how many units were available for the first batch of customers, but they were estimated to have received more than 400,000 pre-bookings for the iPhone 4S early this month.
In Chunghwa Telecom's case, it had 210,000 customers who pre-booked the iPhone 4S, a boost from last year's 100,000, said Chen Chang-rong (陳長榮), vice president of Chunghwa Telecom's mobile business group.
Operators said they would try their best to meet pre-booked customers' orders before the Lunar New Year in the middle of next month. Only after that can everyone else start approaching operators for an iPhone 4S.
Far EasTone even went a step further by offering 4S subscribers one-year contracts instead of two years. In this case, consumers have to pay more for the phone, but they are only bound by the contract for 12 months and can easily upgrade to a newer iPhone model after that.
Far EasTone president Yvonne Li (李彬) expects as many as 30 percent of the firm's iPhone subscribers to sign up for the one-year plan.
Far EasTone also said current iPhone users could trade in their older models and enjoy as much as NT$10,000 in discounts for new plan subscriptions.
Those who go to authorized Apple product reseller Studio A Electronic Corp (晶實科技), can get the iPhone 4S 16GB model for NT$21,900 without a telecoms plan.
Despite the new model's appearance and feel being very similar to its predecessor — but with stronger hardware, such as a dual-core processor and software, including Siri — some local consumers could not wait to get the gadget home.
Salesman David Hsu (許維夫), 27, was the first in line at Chunghwa Telecom's store to pick up his iPhone 4S.
"My mom's birthday was last week. I am getting her a belated birthday gift," he said, flashing his new iPhone 4S to reporters.
He asked his college buddy to stand in the line for him in the early hours of the morning, before he took the first high-speed rail train of the day from Greater Taichung to Taipei to line up at the store at about 6am.
Asked if he would get himself an iPhone 4S too, Hsu, who currently uses an iPhone 4, said: "Our family has been a loyal fan of the iPhone since the 3G. I am waiting to upgrade to an 'iPhone 5.'"
Comments will be moderated. Keep comments relevant to the article. Remarks containing abusive and obscene language, personal attacks of any kind or promotion will be removed and the user banned. Final decision will be at the discretion of the Taipei Times.