Ultrabooks will be mainstream: Acer
MARKET SHIFT: Acer chairman J.T. Wang said prices need to be reduced to about US$699 and that the information technology industry was shifting its focus to emerging markets
Ultrabook laptop specifications will become the mainstream model for tablet PCs and notebooks in the next five years, Acer Inc (宏碁) chairman J.T. Wang (王振堂) said on Saturday.
Ultrabooks will help stimulate Taiwan's information technology (IT) sector, Wang said at a press conference after the opening ceremony of this year's IT Month Exhibition at Hall 1 and Hall 3 of the Taipei World Trade Center on Saturday.
Because the majority of Taiwan's IT industry uses Wintel frameworks, the release of the ultrabook will propel the Wintel system forward, which has stalled over the past two years, Wang added. Personal computers running on Wintel systems use Intel processors with Microsoft Windows operating systems.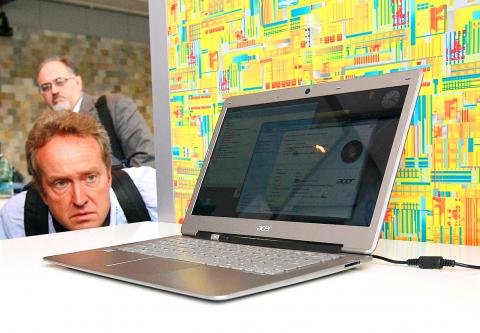 A man looks at an Acer Ultrabook displayed at this year's Intel Developer Forum in San Francisco, California, on Sept. 13.
Photo: AFP
The line between laptops and tablets will become less distinct with ultrabooks entering the market this year, Wang added.
Most computer brands released ultrabooks in late October and last month.
The combined laptop and tablet market is growing at an annual rate of more than 20 percent and Wang predicted that the ultrabook would take up shares of both markets.
However, to increase ultrabook sales volumes, prices need to be kept at about US$699, Wang said. Prices of ultrabooks right now range between US$799 and US$1,299.
Forecasts of ultrabook sales in the fourth quarter of this year are positive and the company will keep shipment volumes at between 250,000 and 300,000 units, Wang added.
Intel has prepared a US$300 million deal with Acer and other IT companies to help improve ultrabook sales and costs, Wang said.
Wang also said that the global IT industry was shifting from developed countries to emerging markets because of slow growth in the former.
Besides markets in Brazil, Russia, India and China, Wang recommended Vietnam and Indonesia, citing World Bank economic outlook reports indicating that emerging markets with large populations had the most manufacturing and consumption growth potential.
The challenge for Taiwanese IT brands and manufacturers is how to build up business in emerging markets, Wang said.
For companies to operate long-term in these countries, they will need to familiarize themselves with local market demands, sales channels and business environments, Wang added.
Comments will be moderated. Keep comments relevant to the article. Remarks containing abusive and obscene language, personal attacks of any kind or promotion will be removed and the user banned. Final decision will be at the discretion of the Taipei Times.