Qantas strike to affect 6,000 passengers
DISRUPTIONS: The embattled airline is preparing for a nationwide walkout today involving 4,000 staff throughout the morning after an announcement of 1,000 layoffs
Australian carrier Qantas yesterday said it would cancel 28 flights and delay 27 because of a ground staff strike this week that would affect more than 6,000 passengers.
The move was announced as a security breach at Sydney airport saw the travel plans of thousands thrown into chaos, with the Qantas domestic terminal evacuated and about 2,000 passengers rescreened, delaying at least 14 flights.
"The Australian Federal Police has been notified and Qantas will be conducting a full investigation into how the incident was allowed to occur," Qantas said.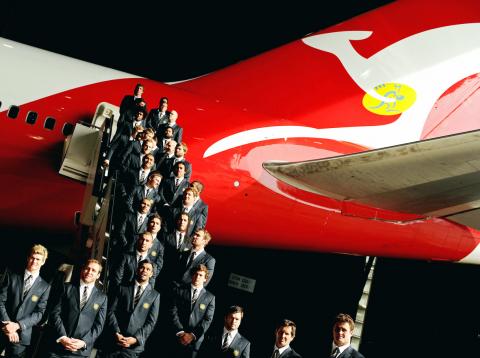 The Australian Wallabies Rugby World Cup squad pose on the steps leading up to a Qantas Boeing 747 aircraft at Sydney Airport on Aug. 18.
Photo: AFP
Similar problems occurred at airports in Sydney and Melbourne earlier this year.
It was an unwelcome distraction as the embattled airline prepared for today's nationwide walkout, which will see staggered four-hour strikes involving about 4,000 staff throughout the morning peak period.
Canberra will be hit between 3:30pm and 7:30pm, with cabin cleaners, baggage handlers and catering crew all taking part.
Qantas said the action had forced it to cancel 28 flights and defer another 27 by up to 35 minutes. Delays could linger for up to two days due to bans on paperwork and other jobs.
It hopes to meet the problems by deploying larger aircraft and using management staff in ground roles.
The Transport Workers Union (TWU) said the strike would involve both domestic and international staff, but Qantas said there would be no impact to international services "at this stage."
"The TWU is intent on causing disruptions to Qantas passengers and we are doing everything we possibly can to reduce the delays and cancellations," Qantas executive Olivia Wirth said. "We have been in negotiations with the TWU since May and are willing to offer reasonable pay increases. We encourage the TWU to remain at the negotiating table instead of going on strike."
TWU lead negotiator Scott Connolly said the move followed a breakdown in contract talks and the airline's recent announcement of a major Asia-focused restructure that will see 1,000 staff laid off.
Unions claim the move will "trash" the Qantas brand, cost jobs and erode local working conditions, also accusing Qantas chief executive Alan Joyce of hypocrisy of pocketing a 71 percent pay increase to A$5 million (US$5.19 million) as he axed jobs.
"Employees built the Qantas business and the Qantas brand, and they're the company's best asset," Connolly said. "Qantas is selling out its staff, and trying to outsource all the labor it can in a zero-sum game of short-term hyper-profits."
Qantas is locked in a bruising industrial dispute with the unions over pay and conditions, aggravated by last month's Asia rebranding announcement.
Pilots and engineers are already undertaking low-level industrial action, but have threatened to escalate their campaign.
Pilots' Union leader Barry Jackson said 22,000 people had so far signed a petition against outsourcing Qantas captains' jobs, and they remained hopeful about talks with management "to avoid the escalation of this dispute."
Qantas last month reported annual net profit of A$250 million — double that of last year.
Comments will be moderated. Keep comments relevant to the article. Remarks containing abusive and obscene language, personal attacks of any kind or promotion will be removed and the user banned. Final decision will be at the discretion of the Taipei Times.