Sony swings to a quarterly loss after quake
STRICKEN: Other leading Japanese firms — Sharp, Panasonic and Fujitsu — also fell into red because of the impact of the quake and an appreciating yen
Japanese electronics giant Sony Corp yesterday said it swung to a net loss in the fiscal first quarter on the impact of the March 11 earthquake and revised its earnings forecasts lower by 25 percent on weak TV sales and a strong yen.
Blaming the impact of the March disaster and a weaker electronics business environment, Sony said it slipped to a ¥15.5 billion US($191 million) net loss in April-June, when it suffered a major hacking attack on its online networks.
The figure compared with a ¥25.7 billion profit in the same period a year ago.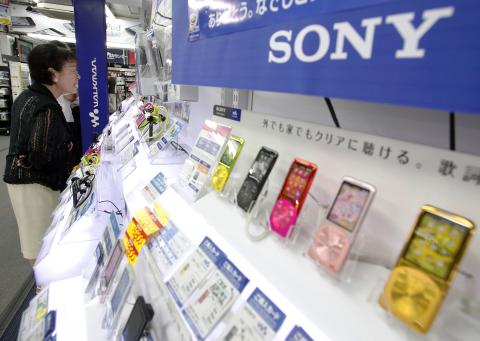 A woman looks at Sony's portable music players at an electronics store in Tokyo yesterday.
Photo: Reuters
In the three-month period, Sony's consolidated operating profit plunged 59 percent from a year ago to ¥27.5 billion on sales of ¥1.49 trillion, down 10 percent.
It lowered its net profit forecast for the fiscal year ending in March next year to ¥60 billion, from its forecast of ¥80 billion made in May, citing a stronger Japanese currency and lower projected LCD television sales in the face of sagging demand and fierce competition.
It also revised its sales forecast lower by 4 percent to ¥7.2 trillion.
Chief financial officer Masaru Kato said the TV business — a long-time laggard — suffered from economic weakness in the US and Europe, exposing the company to foreign-exchange pressures in highly competitive markets.
The impact of the March disaster was also seen in other Japanese electronics firms.
Sharp Corp also reported a net loss of ¥49.3 billion in the April-June quarter compared with a net profit of ¥10.7 billion a year earlier, while Fujitsu booked a net loss of ¥20.4 billion, a sharp drop from a net profit of ¥1.6 billion in the same period last year, because of the March disaster and a strong currency.
In addition, Panasonic reported a net loss of ¥30.4 billion for the three months, compared with a net profit of ¥43.7 billion a year earlier.
In related news, the Nikkei Shimbun yesterday reported that Panasonic was soon to announce a plan to sell subsidiary Sanyo Electric's washing machine and refrigerator operations in Asia to China's Haier Group (海爾).
Sanyo will sell all its shareholdings in about 10 subsidiaries and affiliates in Japan and Southeast Asia, the Nikkei daily reported.
The sale price is estimated at about ¥10 billion, the newspaper said, adding that it would be China's first buyout of key operations from a major Japanese manufacturer.
The deal is scheduled to be completed by March next year, the Nikkei said, adding that 2,000 employees of the firms are expected to be transferred to Haier.
Panasonic declined to confirm the report.
Comments will be moderated. Keep comments relevant to the article. Remarks containing abusive and obscene language, personal attacks of any kind or promotion will be removed and the user banned. Final decision will be at the discretion of the Taipei Times.