Credit Suisse profit plunges, 4% of staff worldwide face axe
Swiss banking giant Credit Suisse yesterday said that its second-quarter net profit plunged 52 percent, adding it would cut about 4 percent of its jobs worldwide.
Net profit for the three months ending June fell to 768 million Swiss francs (US$957 million) from SF1.6 billion a year ago, amid "disappointing performance" by its investment bank unit.
Pre-tax income for the investment bank slumped 71 percent compared with the second quarter of last year.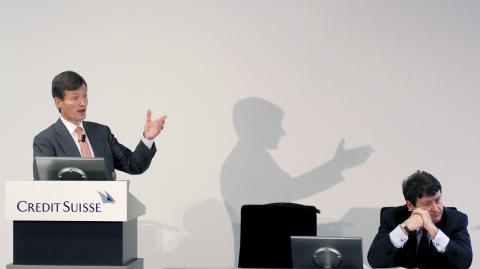 Credit Suisse CEO Brady Dougan, left, addresses a news conference to announce the company's second-quarter results, while chief financial officer David Mathers listens in Zurich yesterday.
Photo: Reuters
Concerns over the European debt crisis and weakening global economic indicators led to slow client demand and a poor trading environment, the group said.
In addition, the strong Swiss franc took SF348 million off pre-tax income compared with a year ago.
The slowdown was also felt in the amount of new assets that the bank was able to attract during the quarter. Net new money declined 25.1 percent from a quarter ago, reaching just SF14.3 billion during the three months ending June.
"In order to ensure attractive returns in the face of an uncertain and challenging economic and market environment, we continue to be proactive about seeking cost efficiencies across the bank," Credit Suisse group chief executive officer Brady Dougan said.
Credit Suisse said it was therefore planning to slash 4 percent of its headcount across the group as part of a program to save SF1 billion in costs through next year.
The group employed 50,700 full-time employees at the end of the second quarter, according to its earnings statement.
Its announcement came on the heels of its cross-town rival UBS, which said it would reduce headcount so as to cut SF1.5 billion to SF2 billion in costs over the next two to three years. UBS did not give specific figures on post reductions.
Elsewhere, British group Lloyds earlier also announced 15,000 cuts, while US financial giant Goldman Sachs said it would axe 1,000 employees.
HSBC will slash more than 10,000 jobs as part of the global banking giant's recently announced cost-cutting drive, a report said.
Broadcaster Sky News said senior executives at the bank "are close to finalizing costs cuts that will result in thousands of jobs being axed across the bank's sprawling global empire."
The report on Wednesday said London-headquartered HSBC might chop more than 10,000 positions across its operations, citing unnamed sources.
A bank spokeswoman in Hong Kong yesterday declined to comment on the report.
Comments will be moderated. Keep comments relevant to the article. Remarks containing abusive and obscene language, personal attacks of any kind or promotion will be removed and the user banned. Final decision will be at the discretion of the Taipei Times.