ANALYSIS: Debt cap failure would rock US economy
ROCK 'N' ROLL: An economist said the US would not default on its legal obligations to the holders of its debt, it would instead default on pledges made to its own citizens
The US economy faces a shock worse than the 2008 to 2009 financial crisis if the government fails to raise its borrowing cap before Aug. 2, analysts and officials say.
While attention has focused on the possibility of an unprecedented US default on its debt, economists say the government is more likely to slash spending come Aug. 2, the day spending needs surpass receipts.
And at the current size of the budget deficit, that could mean cutting 40 percent — shutting down much of the government, halting paychecks to soldiers, closing courts or delaying Social Security payments to seniors.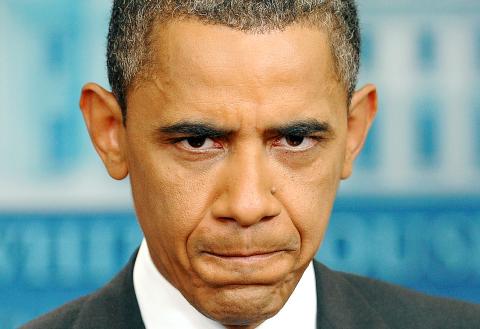 US President Barack Obama speaks during a press conference on Friday in the Press Briefing Room at the White House on the status of efforts to find a balanced approach to deficit reduction.
Photo: AFP
"That would be really catastrophic," Michael Ettlinger of the Center for American Progress said.
Ettlinger said if the debt ceiling remains frozen through September, it would force a quarterly economic contraction of more than 2 percent — worse than the worst quarter in the 2007 to 2009 US recession. In that quarter alone, 2 million jobs were lost.
Whether the government chops spending or reneges on debt payments, it would be a disaster, he said.
Washington already reached its US$14.3 trillion borrowing ceiling on May 16, as the stubborn -political impasse over a long-term deficit plan has prevented raising it.
Through a mix of operational changes at the US Department of Treasury, the government bought some time. However, in less than three weeks, something has to give: Commitments will outpace receipts, and no new borrowing will be allowed to cover the gap.
"The Treasury has no secret bag of tricks to finance government operations past Aug. 2," the independent Bipartisan Policy Center said in a report last week.
The center says the Treasury will have to stop 40 to 45 percent, or US$134 billion worth, of the 80 million monthly bills it pays.
If it sticks with servicing its debt, paying Social Security and health benefits, military contractors and unemployment insurance, it would still have to shut down the Justice and Labor departments, road-building, veterans affairs, health research, small business support and a slew of other operations.
Such cuts, US Federal Reserve Chairman Ben Bernanke told members of Congress last week, would be like the Great Recession all over again, with massive layoffs — even while 14.1 million Americans are already unemployed.
Some politicians have suggested the Treasury could -prioritize by suspending some debt repayment.
Bernanke, bond rating agencies, prominent banking figures, and even the IMF have warned that such a default would be a financial disaster on global terms.
However, even on a practical basis, that would be near-impossible.
The Treasury would normally have to roll over about US$500 billion worth of debt next month, as well as raise new money to cover the projected US$134 billion spending shortfall.
If worried markets balk, it will still either have to pay more for the debt rollovers, or go without it — and slash budgets.
The first test will be on US$60 billion in Treasury bills maturing on Aug. 4. A few days ahead, it will have to hold new auctions to replace those.
Normally demand is strong, as shown by the near-historic lows on Treasury yields right now.
However, US Treasury Secretary Timothy Geithner told a senior US senator in a letter recently that if the debt ceiling is not raised by Aug. 2, "there is no guarantee that investors could continue to re-invest in new Treasury securities."
"In fact, some market participants have already indicated that they would be disinclined to do so," Geithner said.
Even if rollovers go smoothly during the first two weeks of the month and the government cuts spending elsewhere, a test will come on Aug. 15 when the government has to find the funds to make US$25 billion in coupon payments on longer-term debt.
If it cannot do that, it will default — and suddenly, as Greece, Portugal and other debt-laden countries have found, borrowing becomes too pricey to afford.
Ian Shepherdson of High Frequency Economics said that the government would shut down -operations before it ever defaults on debt.
"Let us be clear ... the US is not going to default on its legal obligations to the holders of its debts," Shepherdson said.
Instead, he said: "the US is going to have to default on the pledges made to its own citizens."
However, within a few days of a shutdown, irate Americans would besiege their representatives, he said, and the sheer force of voter power would scare even the most dogmatic of lawmakers to help push through a hike in the debt ceiling.
Comments will be moderated. Keep comments relevant to the article. Remarks containing abusive and obscene language, personal attacks of any kind or promotion will be removed and the user banned. Final decision will be at the discretion of the Taipei Times.