Refugees revive a village in Italy's deep south
A small town with a 'tradition of hospitality' is flourishing as a surge of immigrants provides the town with some much-needed economic impetus
Ethiopian pop songs blare as a group of African women sit embroidering in an impoverished hilltop town in southern Italy that has opened its arms to asylum seekers as a vital economic resource.
"The people of this village have a huge heart! It's like family," said Asadullah Ahmadzai, who arrived in Riace from Afghanistan four years ago and sells bags and jewelery from his homeland in this settlement of 1,800 people.
Ahmadzai, who has had two children with his wife in Riace, is one of about 200 refugees living in the town, who also hail from Balkan countries, Eritrea and Iraq. In a few days, 130 more refugees from Libya are expected to move in.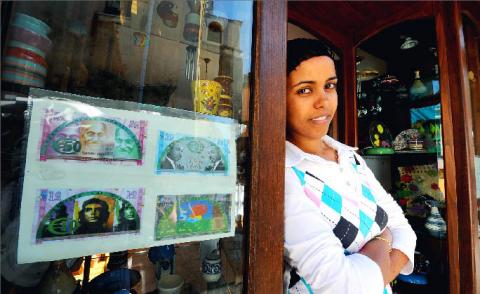 An Ethiopian refugee poses at the exchange office next to the "Euro-Riace" banknotes created by the mayor and featuring pictures of Che Guevara, Gandhi and Martin Luther King Jr on June 22, in Riace, Italy.
Photo: AFP
"These people are fleeing war. They've suffered torture, they've lived through dramatic events," Domenico Lucano, the award-winning leftist mayor of the town, said in an interview in his decrepit office in the center.
Like many towns across southern Italy, Riace has been deserted over the past decades by inhabitants who have emigrated to the US, Argentina or more prosperous regions of northern Italy.
Now dozens of stone houses have been renovated to host refugees in the picturesque center of town, with its stunning views of the Mediterranean.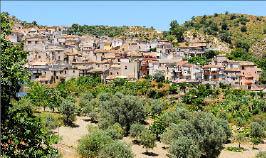 The town of Riace in Calabria, Italy, is seen on June 22.
Photo: AFP
The tobacconist, the bakery and the fruit and vegetable shop are flourishing thanks to the new arrivals, who have taken up local artisanal trades.
A group of local pensioners in the town square said the refugees are welcome — a contrast to the xenophobic language used by the populist Northern League party in government and racist incidents in other parts of Italy.
Nicola, 87, said Riace had a "tradition of hospitality," recalling that the town once hosted refugees from Gorizia — an Italian town on the border with what was then Yugoslavia that was overrun by Nazi troops during World War II.
The refugees say they have noticed the difference with other parts of Italy.
"I have worked in my friends' restaurant in Ancona for up to 2,000 euros [US$2,900] a month. But my son was always crying. He wanted to go back to Riace. They treat foreigners badly there, they say bad things," Ahmadzai said.
The arrival of the refugees has helped give Riace an economic stimulus.
"We've managed to reopen the school, put in place a micro-finance system and local -workshops where people from the village work together with the foreigners," said Lucano, who has been in charge here since 2004.
"But mainly we've sent a -message of humanity to the world," he said.
"This town of emigration with its social problems, with the mafia, has become a place of immigration," he added.
Lucano last year won third prize in a world's most popular mayor award.
The town's social experiment has caught the interest of German film director Wim Wenders, who came last year and filmed a short 3D documentary film entitled Il Volo (The Flight), which features the mayor and the refugees.
Lucano criticized Italy's policy of holding refugees in camps, calling them "detention centers and concentration camps" and saying it was ultimately more costly than allowing them to settle in small towns like his own.
Helen, who arrived from Ethiopia two years ago, has learned Italian, as well as traditional embroidery and carpet weaving since moving to Riace.
Her artisanal skills provide her with an extra 400 or 500 euros a month in regional subsidies on top of the 200 euros she gets as an asylum-seeker.
"There is war both in Ethiopia where my mother is from and in Eritrea where my father comes from. I don't want to go back," said Helen, whose five-year-old daughter was born in Ethiopia and two-year-old in Riace.
To overcome Italy's slow-moving bureaucracy in receiving subsidies for the refugees, the mayor has even come up with a local currency called the "Euro-Riace," with denominations ranging from five to 50 euros.
The tokens carry pictures of Che Guevara, Mohandas Gandhi and Martin Luther King Jr.
The village has also launched itself into ethical tourism, with a bed and breakfast and flats that are rented out in the spring to numerous school groups and curious tourists visiting this impoverished region.
The whole system is managed by the association Citta Futura (City of the Future, www.cittafuturariace.it), which has become the biggest employer in Riace, with 40 people working on the integration of refugees.
"Many people here have been given the opportunity to work again. I'm a teacher and I was without a job," said Cosimina Ierino, who teaches parents to read in the morning and helps children with their homework in the afternoon.
"The workshops have allowed the revival of ancient skills like pottery and weaving. They have a therapeutic role for the refugees who get busy, socialize with others and learn a skill," she said.
Comments will be moderated. Keep comments relevant to the article. Remarks containing abusive and obscene language, personal attacks of any kind or promotion will be removed and the user banned. Final decision will be at the discretion of the Taipei Times.