Tablets, 3D in focus at future-shaping Taiwan IT show
The question of how to get 3D technology into every living room is set to dominate Computex this week, as the technology becomes cheaper and migrates from multiplex cinemas to ordinary homes.
"In the past, TV display resolutions were low, so people could only watch 3D movies in theaters, where they also had to wear goggles," said Stephen Jeng, -secretary-general of the 3D Interaction and Display Alliance (3D互動影像顯示產業聯盟).
"Now, equipped with Blu-ray 3D players, people can watch [3D] movies at home on their own TVs."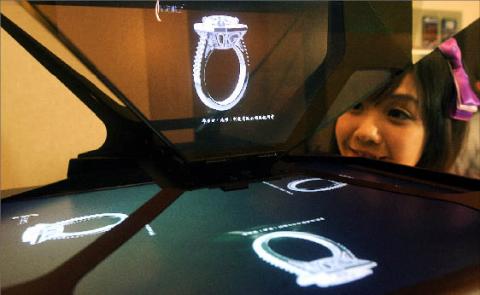 An employee of InnoVision Labs Co demonstrates a 3D image projected in a holographic ad player that the company has developed during a press conference in Taipei on Tuesday ahead of Computex, Asia's largest IT trade fair, which opens tomorrow.
Photo: Lin Cheng-kun, Taipei Times
Most exhibitors are tight-lipped over what new gadgets they will unveil at the show, hoping the element of surprise will add to the impact on potential customers.
Among technologies confirmed to be on display is one developed by the Industrial Technology Research Institute (ITRI, 工業技術研究院), a semi-official research body, allowing 2D and 3D to be shown side-by-side.
Another example of what's in store is The HoloAD, a box-like device developed by Taiwan-based company Innovision Labs Co (崴擎科技), which allows a 3D display for advertisements.
The development of 3D content remains slow because of high production costs, but forecasts for the sector are bullish.
This year, up to 12.9 million TV sets with built-in 3D are expected to be sold worldwide, up from 3.5 million last year, according to a forecast from ITRI.
Last year's global sales of 3D TV panels accounted for 2.1 percent of the total number of panels sold worldwide said the institute, which expects the figure to triple this year before soaring to more than 50 -percent by 2015.
Technology giants such as South Korea's Samsung and Japan's Sony have already released 3D TV sets, and Taiwanese competitors are expected to follow later this year.
BenQ Corp (明基) and Chimei Innolux Corp (奇美) both plan to launch 3D TVs this year.
"Our 3D display sales in China, largely for use in desktop monitors and TV sets, will account for 20 percent of total shipments there," Chimei Innolux spokeswoman Loreta Chen (陳靜燕) said.
Comments will be moderated. Keep comments relevant to the article. Remarks containing abusive and obscene language, personal attacks of any kind or promotion will be removed and the user banned. Final decision will be at the discretion of the Taipei Times.