Sydney's Mardi Gras becomes pride of Aussie tourism
Along with Bondi Beach and the Opera House, Mardi Gras has become one of the city's major tourist draws, with the 'pink dollar' contributing millions to the state economy
American actress Lily Tomlin shouts "I want to see glitter and sequins and feathers," as she pumps up revelers ahead of Sydney's famous and irreverent Gay and Lesbian Mardi Gras.
"I want to see you basking in your own glory!" she yells as the gay pride parade, an annual event which has enjoyed a growing international profile in recent years, kicked off under rainy skies.
Comedian Tomlin was a celebrity guest at this month's Mardi Gras and one of thousands of foreigners joining what has become a major cultural event in the Asia-Pacific region.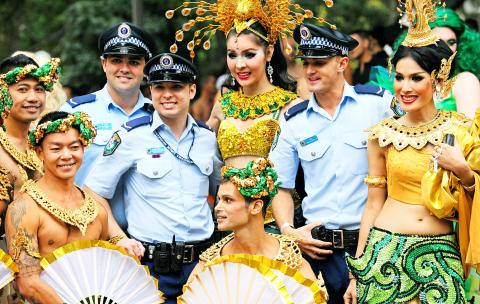 Performers from the Tiffany's transvestite cabaret show from Pattaya in Thailand pose with New South Wales police (wearing blue shirts) prior to the start of the 34th annual Gay and Lesbian Mardi Gras Parade in Sydney on March 5. Australia's Mardi Gras has grown to become a major cultural event and lucrative tourism drawcard in the Asia-Pacific region.
Photo: AFP
"It's welcoming, it's fun and entertaining and slightly irreverent," says Mardi Gras chief executive Michael Rolick of the raucous parade of some 8,500 people — dressed as everything from bikers to angels — which was watched by tens of thousands more who lined the streets.
The parade is known for its outrageous costumes and scores of participants dressed as brides and grooms in support of gay marriage, while others wore cheerleading outfits, chain mail, hot pants or, in some cases, not much at all.
Rolick believes that for the past 10 or 15 years, the parade has been Australia's best known cultural event, and a must-see for tourists along with the Sydney Opera House and Harbor Bridge and Bondi Beach.
"There aren't too many gay pride festivals which happen at night time at summer and stop the middle of the city like this, and have the support that Sydney does and I think that that's something they want to experience," he said.
Sydney is best known for its spectacular New Year's Eve fireworks, but the gay pride march — one of the world's biggest — also draws crowds. Last year it pulled in 22,000 foreign tourists.
Officials say the pink dollar is also lucrative, with those who come to Sydney for the Mardi Gras spending on average more than other tourists and depositing A$30 million (US$30.4 million) in the state economy each year.
The event held its own during the global financial crisis and indications are that its audience is being increasingly drawn from Asia, although the US and Britain are the largest markets by a big margin, accounting together for about 40 percent of foreign visitors.
Rolick said the two main markets were followed by New Zealand and western Europe, but acknowledged there was "an increasing interest from our own backyard."
"The tourist numbers from that part of the world [Asia] are starting to increase," he said, but added that foreigners have long taken part in the march, which has been a feature of Sydney for more than 30 years.
Among the Asian participants this year was the famous transvestite group Tiffany's Show Pattaya, whose exquisitely adorned models danced on a giant peacock float which ended the parade.
"This was something we've talked about for a few years," the group's creative director Ken Smith said, adding that Sydney's Mardi Gras was well-known in Thailand.
The Mardi Gras began as a "fun" human rights protest in 1978 — but police cracked down heavily on marchers and more than 50 were arrested in the brief riot which followed. However, the event helped bring legislative change, including the decriminalization of homosexuality in New South Wales in 1984.
Rolick says it also helped bring the community together during the worst days of the HIV/AIDS crisis in the years that followed, but has lost none of its relevance even today as it highlighted calls for same-sex marriage in Australia, which bans gay marriage.
"The parade is very much an amplifier, like a microphone, for what our community wants to say," he said. "If you look at the event over the years, that has gone from 'we're equal and we're not criminals'... to not stigmatizing us with HIV, to changing the age of consent and the right to same-sex marriage equality."
However, the tone is always light, with this year's march featuring a huge figure of Australian Prime Minister Julia Gillard — who has said she believes marriage should only be between a man and a woman and who remains unmarried herself — in a bridal gown.
Peter Murphy, who took part in the first Mardi Gras and has been involved in many parades over the years, says the event has always been "a big party."
"It began as a Mardi Gras, it wasn't so much an act of defiance as a way to shift from a fairly routine type political protest to something that was more cultural and much more open and disarming," he said.
Comments will be moderated. Keep comments relevant to the article. Remarks containing abusive and obscene language, personal attacks of any kind or promotion will be removed and the user banned. Final decision will be at the discretion of the Taipei Times.