IPad 2 sales begin with pre-dawn online orders
Apple Inc's updated version of its iPad tablet computer were to be available in US stores yesterday afternoon, but those who couldn't wait to say they owned the gadget could beat the crowds by ordering one online before the sun rose.
The Cupertino, California-based company was scheduled to open online sales of the iPad 2 at 9am GMT, hours before they were to be available in stores nationwide at 10pm GMT.
When the original version of the iPad went on sale in April last year, Apple said it sold more than 300,000 in the first day. It ended up selling more than 15 million in its first nine months on sale, including 7.3 million to holiday shoppers during the October-December quarter.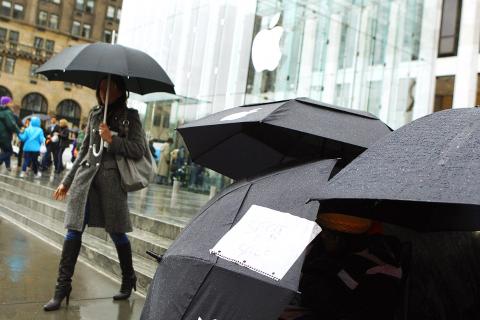 A customer occupying the first spot in line outside an Apple store holds an umbrella with a sign offering to sell the spot in New York on Thursday, as customers wait to purchase the iPad 2.
Photo: Reuters
The new iPad model comes with several improvements over the original version, but the same price tag — US$499 to US$829, depending on storage space and whether they can connect to the Internet over a cellular network — hobbling efforts by rivals at breaking Apple's hold on the emerging market for tablet computers.
The iPad 2 looks much like the first iPad, only with a sleeker, lighter body with a curved back. Among changes is the inclusion of cameras, one on the front and one on the back.
With the original iPad, Apple proved there is a large market for a tablet that's less than a laptop and more than a smartphone, yet performs many of the same tasks.
Tablet sales are expected to surge to more than 50 million units this year, with Apple capturing more than 70 percent of the market. After its US launch, the iPad 2 goes on sale on March 25 in 26 other markets, including Mexico, New Zealand, Spain and other European countries. Taiwan is not among the 26.
JPMorgan analyst Mark Moskowitz warned this week of a potential bubble forming in the market as early as this year, as Apple's rivals build far more tablets than consumers will actually buy.
He said supply could outstrip demand by as much as 36 percent this year to 17.2 million units.
BlackBerry maker RIM and Hewlett-Packard Co (HP) are set to release tablets in coming months. Some analysts believe RIM and HP could provide Apple with some competition, because both devices offer unique software and both have formidable sales channels.
And although Samsung Electronics Co and Motorola Mobility Inc have launched tablets, neither appears to poised to give the iPad a run for its money.
"The technical and form factor improvements of the iPad 2 stand to make it tougher for the first generation of competitive offerings to play catch-up," Moskowitz wrote in a research note on Wednesday.
Comments will be moderated. Keep comments relevant to the article. Remarks containing abusive and obscene language, personal attacks of any kind or promotion will be removed and the user banned. Final decision will be at the discretion of the Taipei Times.