Typewriters and typists still flourishing in modernizing India
Purushottan Sakhare perches on a wall by a Mumbai pavement, slips a sheet of green paper behind the roller of his battered typewriter and winds it into position with two deft flicks of the wrist.
After pulling the carriage release lever towards himself, he punches the worn, black keys, the swift and precise movements of his fingers sending the slender metal typebars slamming into the black ink ribbon.
Soon, the form he's typing is ready to be authenticated with a wax seal and rubber stamp by one of the dozens of notaries waiting for passing trade under the colonnade entrance of the Mumbai Metropolitan Magistrates Court over the road.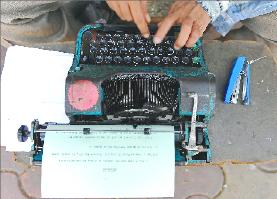 Professional typist Purushottam Sakhare types an affidavit on his typewriter on a -sidewalk outside a city court in Mumbai.
Photo: AFP
"A typewriter is perfect for this kind of work," said the 46-year-old, looking up from the aging Underwood model on a makeshift desk in front of him. "It's fast and immediate."
More than a dozen unofficial petition writers like Sakhare can be found hunched over portable typewriters on the same busy pavement, the sound of their work drowned out by the noisy traffic of India's financial hub.
Inside the court precincts, a similar number of workers can be found under a flimsy, corrugated iron lean-to, typing affidavits, family title deeds and court applications for 10 rupees (US$0.22) per page.
Typewriters have largely been consigned to history in many countries and might be expected to have also been sent for scrap in Mumbai, where India does business with the world and the latest technology drives the country's economic boom.
However, the unmistakeable clatter of typewriter keys and ping of margin bells can still be heard, echoing down the vaulted corridors of the courts and lawyers' chambers to police stations and government offices across the city.
Santosh Pratap Sangtani, from the Bombay Typewriter Company, is thankful that the sturdy machines that were a feature of business from the late 19th century through most of the following 100 years have not yet become museum pieces.
India once manufactured around 150,000 typewriters every year, but five years ago he was unsure whether there would still be a demand for his services, as typewriter factories closed and the take-up of information technology increased.
"A lot of the resurgence has to do with the government," he said in his dusty first floor workshop above a busy side-street near the city's main railway station and post office.
"They have said that if you want a government job, you have to first learn how to type on a typewriter and produce a course certificate. Only then can you move on to a computer. Typing institutes that closed have now reopened," Sangtani said.
With new typewriters unavailable, the Bombay Typewriter Company and others like it now make money by selling reconditioned machines for up to 6,000 rupees each.
Work on the hulks of Woodstock, Remington, Godrej and Facit models usually involves metal bashing and oiling or replacing the English, Hindi and Marathi keys, typebars, levers and rollers with specially made parts.
Like the court typist Sakhare, Sangtani believes the machines still have a place in modern India, despite a push to increase the use of computers and digitize the slow-moving state sector, where form-filling by hand is still largely the norm.
"Nowadays people who use computers use only a single finger. Ten minutes' work takes half an hour. When you learn to touch-type on a typewriter, you use all your fingers and it's quicker," he said.
Users, many of them older and with an emotional attachment to their machines, also vouch for their preference for typewriters over new-fangled computers because of their low maintenance costs and simplicity.
"If you're doing work on a computer and I'm doing work on a typewriter, I will get it done first," one court writer boasted.
The machines are also an ideal tool in a country where about 400 million people lack regular electricity and where power cuts can be daily occurrences even where electricity it is available.
Nevertheless, Mumbai's professional typists and repairers are realistic. The cost of computers is falling and more Indians are getting online, including through their mobile phones.
"I think the situation will last for another four to five years," Sangtani said. "After that, who knows?"
Comments will be moderated. Keep comments relevant to the article. Remarks containing abusive and obscene language, personal attacks of any kind or promotion will be removed and the user banned. Final decision will be at the discretion of the Taipei Times.