World Business Quick Take
HONG KONG
Tsang warns of inflation
Financial Secretary John Tsang (曾俊華) yesterday said the economy bounced back strongly last year, expanding by 6.8 percent thanks to strong growth in China and the rest of Asia. However, he forecast inflation of 4.5 percent this year, while GDP growth would ease to between 4 percent and 5 percent. He said the government would release more land for development to reduce the risk of a property bubble. As Tseng spoke, protesters outside the Legislative Council urged the government do more to ease the wealth gap.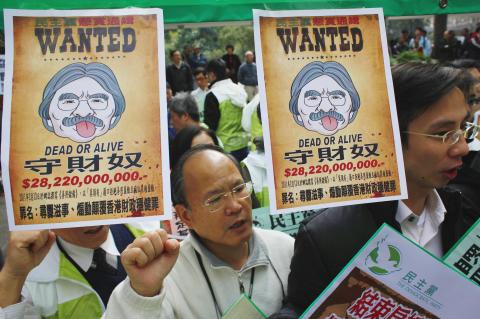 Photo: Reuters
OIL
PetroChina pays Quito
Ecuador has received a billion dollars from PetroChina (中石油) as prepayment for crude oil sales, Ecuadorean Finance Minister Patricio Rivero said on Tuesday. Rivero did not say how much oil was involved but that it was a two-year contract that would begin in August. It was the second time Quito used the prepayment regime with China. Ecuador pumped 486,000 barrels per day last year of which 62 percent were moved by Petroecuador and the rest by foreign firms such as China's CNPC (中國石油天然氣).
ENERGY
Grupo Carso buys stake
The Grupo Carso consortium controlled by Mexican billionaire Carlos Slim said on Tuesday it was buying a 70 percent stake in an oil exploration and production company. Carso says it has reached an agreement to take a majority stake in Tabasco Oil Co LLC, which has an exploration concession on a field in Colombia. The consortium did not say how much it was paying for the stake.
MINING
Imerys eyes Rio Tinto's talc
Global mining giant Rio Tinto said yesterday that it has received an offer for its talc business, Luzenac, from French industrial minerals group Imerys. "Rio Tinto has received a binding offer from Imerys to acquire its talc business for an enterprise value of US$340 million," the British-based resources company said in a statement. Luzenac is the world's biggest producer of talc, a mineral used in a vast array of products, including animal feed, cosmetics, fertilizers, paints, pharmaceuticals, plastics, roofing — and talcum powder.
BANKING
No windfall for Lehman
Lehman Brothers Holdings Inc's hurried sale of much of its US operations to Barclays PLC at the height of the financial crisis was fair, and its bankruptcy estate is not entitled to recover an US$11 billion "windfall," US Bankruptcy Judge James Peck ruled. The long-awaited ruling followed a trial in which Lehman said Barclays got a sweetheart deal in acquiring its US investment banking and brokerage operations. Lehman agreed to sell that business for about US$1.85 billion on Sept. 20, 2008, just five days after the company filed for Chapter 11.
TRANSPORTATION
Moller-Maersk profits up
Danish container shipping and oil group A.P. Moller-Maersk A/S yesterday said it made 26.5 billion kroner (US$4.84 billion) in net profit last year. It said earnings were boosted by rising freight rates and higher volumes in its container activities. Revenue soared to 315.4 billion kroner from 260 billion kroner a year earlier.
Comments will be moderated. Keep comments relevant to the article. Remarks containing abusive and obscene language, personal attacks of any kind or promotion will be removed and the user banned. Final decision will be at the discretion of the Taipei Times.