LCD panel makers' stocks take hit over EU penalties
Stock prices for the nation's top LCD panel makers tumbled by as much as 5 percent yesterday after they were fined hundreds of millions of euros by the EU competition watchdog over a price-fixing scheme.
After receiving the biggest price-fixing fine among the six LCD companies involved in the probe, Chimei Innolux Corp (奇美電子) saw its shares plunge 5.32 percent to close at NT$38.3 yesterday, while the benchmark TAIEX rose 0.58 percent.
Based on the EU Commission's ruling on Wednesday, Chimei Innolux has to pay a fine of 300 million euros (US$396.5 million), which the Miaoli-based company said was more than it had expected.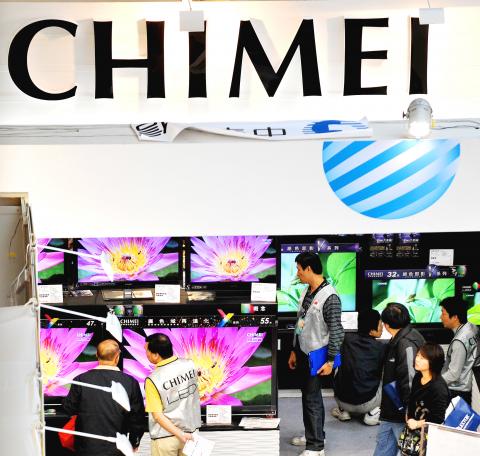 Shoppers browse flat-screen televisions made by Chimei at a trade fair in Taipei -yesterday.
PHOTO: PATRICK LIN, AFP
Shares in AU Optronics Corp (AUO, 友達光電) and Chunghwa Pictures Tubes Ltd (中華映管), which were fined 116.8 million euros and 9 million euros respectively, plunged 2.44 percent and 0.23 percent to NT$30.05 and NT$4.25, with investors concerned the fines would add to the already bleak fourth-quarter and first-quarter outlook.
Shares in HannStar Display (瀚宇彩晶), however, jumped 3.19 percent to NT$5.82. HannStar received the smallest fine, at 8.1 million euros.
AUO said it would appeal the ruling, while Chimei Innolux, Chunghwa Pictures and HannStar Display Corp said they would not make any decision before receiving formal notification.
Prior to the EU penalties, HSBC Securities had expected Chimei Innolux and AUO to post losses of NT$11.73 billion (US$389.8 million) and NT$8.2 billion respectively this quarter, according to a report released on Oct. 27.
The four Taiwanese LCD panel makers and South Korea's LG -Display Co were slapped with a total of 649 million euros in fines.
UBS Securities said yesterday the one-off price-fixing fines would not have a significant impact on the fundamentals of the LCD industry.
UBS said it would retain its overweight rating on the industry next year because the flat-panel sector was on track for an upcyle.
Separately, Chimei Innolux yesterday said revenues grew 10.5 percent to NT$45 billion last month, from NT$40.7 billion in October, joining its local peers in posting higher monthly revenues.
Last month, Chimei Innolux shipped more than 23 percent more TV and PC panels than the prior month, increasing to 11.9 million units from 9.7 million units, a company statement released yesterday said.
Meanwhile, Minister of Economic Affairs Shih Yen-shiang (施顏祥) said the government will provide any assistance necessary if the fined companies ask for help.
Shih said, however, that the government should have confidence in the companies' ability to deal with international lawsuits, as all of them have multinational operations and their own legal teams.
Sun Li-chun (孫立群), a commissioner with the Cabinet-level Fair Trade Commission, said the agency is willing to extend a helping hand if the government is allowed to intervene.
Sun said that based on past experience, the amounts of the fines are negotiable if the companies involved appeal and explain their situations.
Council for Economic Planning and Development Minister Christina Liu (劉憶如) attributed the EU move — a repetition of a similar antitrust case in the US — in part to the economic downturn in Europe and the US.
"These two areas tend to take more aggressive approaches when their economies are not in good shape," she said.
Comments will be moderated. Keep comments relevant to the article. Remarks containing abusive and obscene language, personal attacks of any kind or promotion will be removed and the user banned. Final decision will be at the discretion of the Taipei Times.