Roubini warns of hot money inflows
DOUSING THE FLAMES: The economics professor said currency intervention that was not accompanied by interest rate hikes could lead to bubble-like pressures
Massive capital inflows pose the biggest challenge to emerging economies, including Taiwan's, because in recent months their currencies have strengthened against the US dollar and the competitiveness of their exports could be jeopardized if the trend continues unchecked, US economist Nouriel Roubini said yesterday in Taipei.
Roubini, an economics professor at New York Unviersity and dubbed "Dr Doom" for his pessimistic forecasts, said that while emerging economies in Asia have stronger economic fundamentals than other countries, uncertainties remain about their overall economic outlook.
THWARTED HOPES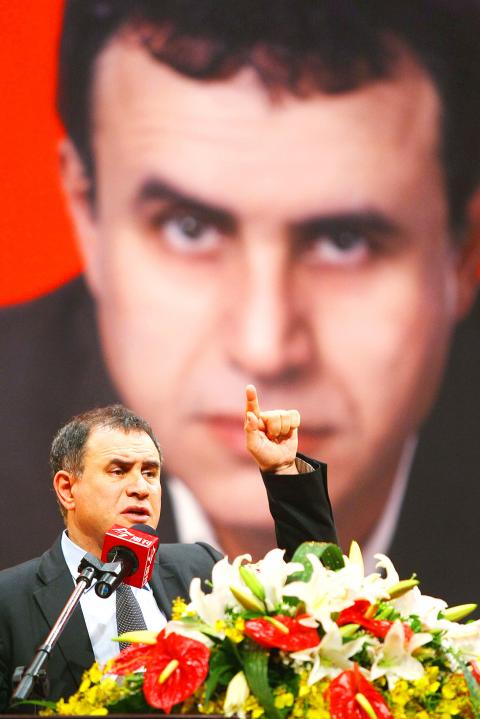 US economics professor Nouriel Roubini gestures during a world economics forum in Taipei yesterday.
Photo: CNA
The renowned economist cited asset bubbles, China's potential overheating economy and regional central banks' policy responses as possible risks that may thwart hopes of a V-shaped recovery.
"How to manage massive capital inflows is the biggest challenge for central banks in the region," Roubini said during a speech organized by the Chinese-language Business Today (今周刊) weekly.
If left unaddressed, currencies in export-driven economies such as Taiwan and other Asian countries will gain value, driven by an influx of global funds to exploit their economic growth and higher yields, he said.
This trend is evident after the US announced a second round of quantitative easing to avoid a double-dip recession, Roubini said, adding that to achieve this goal, the US Federal Reserve may inject more liquidity into the market and Europe may take similar steps.
'CONSUME LESS'
"Advanced economies will have to spend less, consume less, import less and save more for years to put the economy back on track," he said. "The monetary easing came after inflation readings stood below the central bank's target."
Roubini said the policy stance is necessary from a global perspective because the East has not fully decoupled its economic dependence from the West, although the level of reliance has eased.
This interdependence explained why Europe's debt problems prompted corrections in stock markets across the world earlier this year, he said.
EUROZONE CONCERN
Regarding the current debt crisis in Europe, Roubini said there was a risk of the problem spreading to Portugal and Spain. The rising budget deficits in the eurozone are a concern, he added.
"There's now financial contagion in Portugal, Spain and to a smaller degree even in countries like Italy, Belgium and others in the eurozone," Roubini said.
Addressing the issue of capital inflows, he said currency intervention without interest rate hikes may increase bubble pressures as central banks pump more money into the market to support the US dollar.
Stabilizing intervention, or intervention measures that were used to stabilize exchange rates, have led to more inflows of hot money, Roubini said.
Taiwan recently tightened rules governing purchases of government debts by foreign investors to curb hot money inflows.
DIVERSIFY
Roubini said an open economy coupled with sound fundamentals is the best way to absorb external shocks. He advised investors to maintain a diversified portfolio across regions to lower investment risks.
Taiwan Semiconductor Manufacturing Co (TSMC, 台積電) chairman Morris Chang (張忠謀), who joined a panel discussion following Roubini's speech, said he hoped the central bank would ensure that any appreciation in the local currency would be gradual.
Exporters could cope with slower appreciation more easily than a sudden rise, Chang said. TSMC is the world's largest contract chipmaker.
Additional reporting by Bloomberg
Comments will be moderated. Keep comments relevant to the article. Remarks containing abusive and obscene language, personal attacks of any kind or promotion will be removed and the user banned. Final decision will be at the discretion of the Taipei Times.