China protects interests in rare earths policy
China's restrictions on exports of rare earths are aimed at maximizing profit, strengthening its homegrown high-tech companies and forcing other nations to help sustain global supply, experts say.
China last year produced 97 percent of the global supply of rare earths — a group of 17 elements used in high-tech products ranging from flat-screen televisions to iPods to hybrid cars — but is home to just a third of reserves.
The US and Australia have large reserves, 15 percent and 5 percent respectively, but stopped mining them because of cheaper Chinese competition and domestic environmental concerns.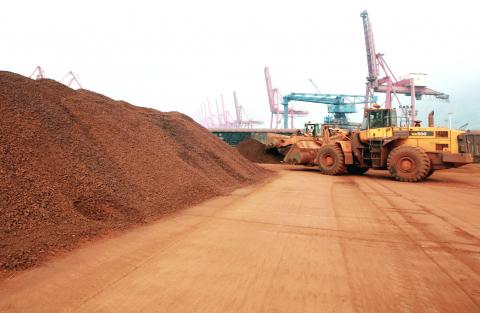 A man driving a front loader shifts soil containing rare earth minerals to be loaded for export to Japan on Sept. 5 at a port in -Lianyungang, Jiangsu Province, China.
PHOTO: AFP
"China is saying they're not interested in supplying the world's rare earths indefinitely," said Geoff Bedford, vice president of Canada-listed Neo Technologies — a rare earth processor operating in China — at an industry conference in Xiamen, China. "So they're showing signs of cutting back and they're expecting other mines to come in."
The world's top consumers of rare earths, especially Asian neighbor Japan, have rung the alarm bell in recent weeks, accusing China of disrupting exports of the vital minerals — a charge Beijing has repeatedly denied.
Shipments have nevertheless been disrupted, and a top official in Tokyo has warned that Japan's stockpile could run out by March. Japan and Vietnam are now set to sign a deal on joint development of rare earth reserves.
Germany, meanwhile, said it would work with Tokyo to stimulate rare earths production in other nations including Mongolia, Namibia and the US. Washington said it would raise the issue at next month's G20 summit.
A commonly held view among officials in Beijing is that rare earth policies in the past were like "selling gold to foreigners at the price of Chinese radishes," Damien Ma, an analyst at Eurasia Group, wrote in a research note.
Since 2006, China has cut export quotas on rare earths by 5 percent to 10 percent a year. Production has also been slashed amid concerns that Chinese supplies could run out in 15 years.
By cutting foreign supply and increasing the rare earths available to high-tech companies within China, Beijing is pushing its economy up the value chain, said Nigel Tunna, managing director of market analysis firm Metal-Pages.
"They've realized they need the things themselves and there is not as great value in exporting raw materials as there is in putting added value into them within China," said Tunna, whose firm organized last week's Xiamen conference. "That has been the main driver behind the whole process."
About 40,000 tonnes of new non-Chinese supply is expected in coming years on top of the current 125,000 tonne annual supply, Bedford said.
That includes renewed production from California's Mountain Pass mine, which closed in 2002 after an industrial accident.
Japan, which uses a fifth of annual global supply, has budgeted US$1.25 billion — equal to the total annual rare earths market value — for next year to secure non--Chinese supplies, Advanced Material Japan Corp said in Xiamen.
"We do not have a customer in Japan whose research and development group is not working overtime to figure how to reduce, or eliminate, rare earths in their products," Bedford told the conference. "I'm not sure in the long term this is the best for the industry."
China's Ministry of Commerce has said it reserves the right to slash rare earths exports again to "protect exhaustible resources and sustainable development" in an industry that is notoriously chaotic, with illegal mining rampant, and highly polluting.
"Over the past few years, rare earths exploration has been very messy and the environment has been very damaged," said Jiang Fan (江帆), vice director-general of the ministry's foreign trade department. "The decrease of rare earths is not good for the world. I hope other countries can understand what China is doing."
Comments will be moderated. Keep comments relevant to the article. Remarks containing abusive and obscene language, personal attacks of any kind or promotion will be removed and the user banned. Final decision will be at the discretion of the Taipei Times.