Luxury brands find methods to move deeper into China
French fashion label Hermes is launching a new clothing and lifestyle brand in Shanghai this week — a bold strategic move that underlines China's growing importance to luxury goods companies.
Fashionistas and business consultants alike will be watching on Thursday when the secretive Shang Xia (上下) label is unveiled with the opening of a stand-alone store in a luxury mall in China's most cosmopolitan city.
Shang Xia, whose name means "Up Down" in Mandarin, aims to boost what Hermes chief executive Patrick Thomas told reporters was "very strong growth" in China, Hong Kong, Macau and Taiwan — collectively now the company's "principal market."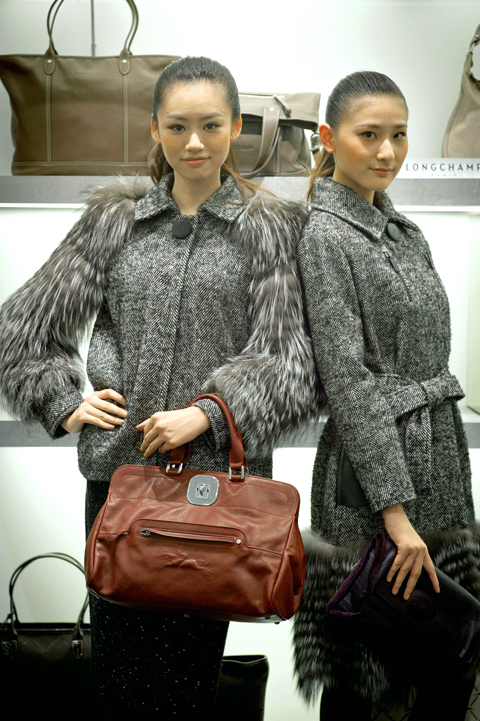 Models display handbags during the opening of a store of luxury handbag maker ­Longchamp in Shanghai on Aug.27.
PHOTO: AFP
The company has remained tight-lipped about the project, which is led by designer Jiang Qionger (蔣瓊耳) and will reportedly include clothing, home furnishings and tableware, prompting widespread curiosity, even from rivals.
"It's a very interesting experiment and I'm looking forward to seeing what it will look like," Jean Cassegrain, the managing director of luxury handbag maker Longchamp, told reporters as he opened a new shop next to the Shang Xia site.
Sales of luxury goods in China hit an estimated US$8.6 billion in 2008, according to the consulting firm Bain and Company. When purchases by Chinese people abroad are factored in, the market was worth US$20 billion.
China is forecast to become the world's top buyer of luxury goods by 2015, according to consulting firm PriceWaterhouseCoopers.
Tapping the rapidly expanding China market is often a challenge for mainstream consumer brands trying to strike a balance between catering to national tastes and maintaining their brand identity.
Shang Xia, which will be run as a separate entity, presents a unique China strategy for an international fashion house: Building a brand from scratch around a blend of traditional Chinese craftsmanship and contemporary design.
"The same way European brands have been launched over the last two centuries, leveraging the arts and crafts tradition of ­European countries — that will be the same idea for Shang Xia here in China," Bruno Lannes, a Shanghai-based partner at Bain said. "We'll see whether they are successful in the way they develop this concept over time."
Hermes already has stores in around a dozen Chinese cities selling its famous handbags and leather goods.
However, for many luxury brands targeting China's growing number of super wealthy — the country has the second-largest number of dollar billionaires after the US — tailoring products for a single market is out of the question.
"We cannot have an entirely different product offer for China," Cassegrain said. "It wouldn't make sense because the brand is the brand. It has to keep its own identity."
Like many other high-end labels, Longchamp is embracing other strategies to increase its market share in China, where Cassegrain said the firm's sales have been growing 30 percent year-on-year for the past five years.
Last year, Longchamp began closing the gap between its prices in Hong Kong and in China, absorbing taxes that had pushed up costs for Chinese consumers by up to 40 percent to encourage them to buy at home.
It is also pushing into markets beyond big cities such as Beijing and Shanghai, with 14 shops in operation from the southern city of Shenzhen to Shenyang in the northeast, and aims to open 50 new stores over the next five years.
According to Bain, seven out of 10 new luxury stores are opening in China's second and third-tier cities — often less well known abroad, but boasting millions of people and the majority of new commercial real estate developments.
"There is a big boom in shopping malls in China. All of this is fuelling the interest of brands to follow those developers and open stores in these new malls," Lannes said.
Brands hope better product awareness can help them combat the market for fakes in China, a country that industry insiders say produces 90 percent of the world's counterfeit products.
Hermes opened a seven-week exhibition last week on Shanghai's main shopping street to show people the materials it uses and allow them to see the craftsmanship behind their handbags.
"Often people are astonished, amazed," said Maguelone de Ricaud, 23, an artisan who traveled to Shanghai from Paris to demonstrate how the bags are made. "They ask if it's made by hand."
Cassegrain said Longchamp's growth in China was now limited because it takes years to train people to craft its handbags, but is optimistic about the future.
"We have to pick the right projects because there are too many opportunities in a way," he said.
Comments will be moderated. Keep comments relevant to the article. Remarks containing abusive and obscene language, personal attacks of any kind or promotion will be removed and the user banned. Final decision will be at the discretion of the Taipei Times.