HTC revenue drops 31% in Q4
HIGHER COSTS For the whole year, net profit shrank 21 percent, while revenue fell by a better-than-expected 5 percent, a number that had analysts scratching their heads
HTC Corp (宏達電), the manufacturer of the world's first phone running Google's Android system, yesterday posted a 31 percent decline in revenues for the fourth quarter amid rising operating costs.
Last quarter's net income dropped to NT$5.58 billion (US$175 million), compared with a revised profit of NT$8.09 billion a year earlier, HTC said in a statement. That figure also represented a 2 percent drop quarter-on-quarter.
Revenues dropped 13 percent to NT$41.08 billion in the fourth quarter, from NT$47.38 billion a year ago, meeting the company's earlier forecast of between NT$40 billion and NT$42 billion.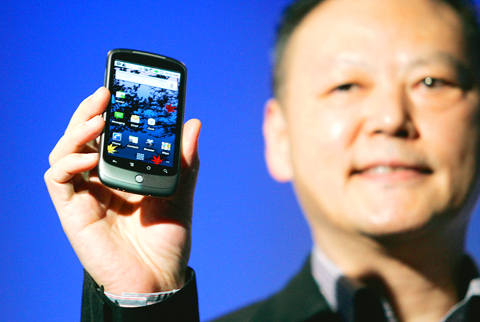 HTC Corp chief executive officer Peter Chou holds the Google Nexus One touch-screen mobile phone during a news conference at Google headquarters in Mountain View, California, on Tuesday.
PHOTO: BLOOMBERG
For the whole year, net profit shrank 21 percent to NT$22.65 billion from NT$28.64 billion in 2008. Revenue fell 5 percent to NT$144.88 billion from NT$152.56 billion in the previous year, said HTC, which is scheduled to give its quarterly outlook during a teleconference with investors on Jan. 26.
"HTC released better-than-­expected revenues, but its earnings do not match the pace. This means that the company may spend more on marketing its branded phones than it disclosed," Lu Chia-lin (呂家霖), who tracks the handset industry for Macquarie Securities, said by telephone yesterday.
In November, Taoyuan-based HTC said it would allocate a bigger share of its revenues — as much as 17.5 percent — to promote its smartphones amid growing competition, compared with 14 percent in the third quarter last year and 11.5 percent in the final quarter of 2008.
New orders from Google Inc and US telecoms operator Verizon Wireless could be the major driving force behind HTC's strong sales last month, Lu said.
"HTC has began shipping Nexus One to Google last month. We believe the partnership will have a positive impact on HTC, as the gross margin is not bad," Lu said.
HTC could ship about 2 million Nexus One phones to Google this year as the online search giant seeks to boost sales through a new online shopping service.
Citigroup analyst Kevin Chang (張凱偉), however, was more cautious about Google's move in the handset sector.
It would be "impossible for HTC to make 30 percent gross margin" with Nexus One, Chang said in a report yesterday.
HTC financial executive officer Cheng Hui-ming (鄭慧明) told Bloomberg yesterday that the phone would have a profit margin similar to that of HTC's branded devices.
Google's new phone could cause a severe blow to HTC's current models, most of which retail for more than US$550. The Google Nexus One is sold for US$529 ­without telecoms services, or starting at US$179 with a two-year service contract, Chang said.
Shares of HTC inched up 0.4 percent yesterday to NT$373.5, underperforming the benchmark TAIEX, which gained 1.42 percent.
Comments will be moderated. Keep comments relevant to the article. Remarks containing abusive and obscene language, personal attacks of any kind or promotion will be removed and the user banned. Final decision will be at the discretion of the Taipei Times.