FEATURE: Chinese increasingly buy gold as wages rise
GOLD AS A HEDGE High inflation and a 41 percent slump in the stock market this year have added further momentum to China's drive to buy the precious metal
Li Zhixin spent weeks planning his one-day family tour of Beijing's historic sites, but instead found himself in one of the city's shopping malls, watching his wife happily trying on gold necklaces.
"I can't complain — we just like gold," said the 30-year-old steel plant worker from Tangshan, an industrial city southeast of Beijing.
"Gold is a better store of wealth than platinum," he said, as his mother-in-law counted a wad of cash beside him. "Of course, diamonds are lovely. But we can't afford the big ones and are not interested in small stones."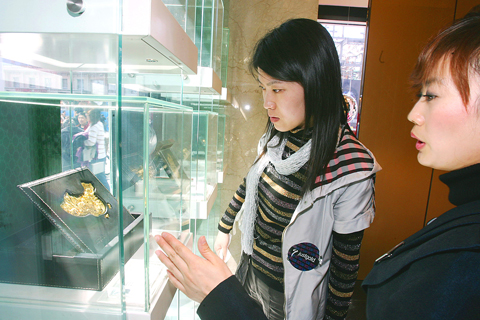 Shoppers look at gold jewelry at a shop in Beijing on Saturday.
PHOTO: AFP
They finally bought a pendant necklace for more than 3,000 yuan (US$439), more than two months' income for an average Chinese urban resident.
With per-capita disposable income in cities up 17.2 percent to 13,786 yuan last year, gold jewelry is no longer beyond the reach of masses of Chinese consumers on the lookout for something luxurious.
"People buy gold jewelry for anniversaries, weddings, or as gifts for holidays," said Daisy Yan, a saleswoman at the Xin Dong An Department Store in downtown Beijing.
"First it's a pretty adornment, also I think it's maybe about vanity, a way to show how rich the wearer is," she said.
Figures from the World Gold Council showed sales of gold jewelry in China hit a record high of 302.2 tonnes last year, up 34 percent on the previous year.
China has now overtaken the US to become the world's second-largest buyer of gold jewelry after India.
But behind the growth lies a deep Chinese traditional appreciation of the precious metal as a hedge against social and economic risks.
"I'm more confident in gold — we've been buying it for so many years in the past anyway," said 78-year-old Wu Peifen, who was selecting a wedding gift for her grandson at Beijing's Wangfujing Department Store (王府井百貨).
High inflation and a 41 percent slump in the stock market this year have added further momentum to China's drive to buy gold.
"The stock market is not as good as before and people do not feel safe parking all their savings in banks," said Lin Yuhui (林煜輝), an analyst with the China International Futures (中國國際期貨經紀有限公司) in Shenzhen.
"So they tend to buy gold as a means to hedge inflationary risks," Lin said.
Spurred by strong demand and international price rises, 1g of pure gold jewelry sold at a new high of 242 yuan in Beijing last month, up 9 percent in just two months, earlier state media reports said.
On the London Bullion Market, the price of gold rose to US$944.13 per ounce on Friday, up more than 37 percent from a year ago.
But Chinese consumers are not deterred by rising prices, experts said. Rather, they increasingly view gold as not only a means to protect wealth but also as an efficient part of their investment portfolio.
"In fact, higher gold prices helped to stimulate investment purchases of the metal ... as consumers were attracted by the strong returns generated by the metal," the World Gold Council said in a recent report about the China market.
It said investment demand for gold at the retail level amounted to 23.9 tonnes last year, a rise of 60 percent compared with 2006.
However, for young Chinese, fashion appears to be more important than potential return.
"What I want is something fashionable and special," said Zhang Xiangyu, a 25-year-old beauty parlor worker, as she browsed gold earrings and bracelets in a jewelry store with her boyfriend.
"I won't waste time thinking too much — I'll buy it as long as I like the look of it," she said.
Comments will be moderated. Keep comments relevant to the article. Remarks containing abusive and obscene language, personal attacks of any kind or promotion will be removed and the user banned. Final decision will be at the discretion of the Taipei Times.