HSBC takeover takes shape
HSBC Holdings Plc, the largest bank in Europe, plans to turn The Chinese Bank (中華銀行) around next year before absorbing the local lender within two years, a high-ranking executive at the local branch said yesterday.
The remarks came after HSBC agreed to take over the debt-ridden Taiwanese bank in return for a payment of NT$47.49 billion (US$1.46 billion) from the government last Friday, making it the fourth foreign bank to buy a local lender this year.
"The Chinese Bank is good at personal financing and commercial financing for small-and-medium companies in particular ... HSBC is strong [in these areas]. We want to increase the size," HSBC Taiwan Chief Executive Alistaire Currie said yesterday.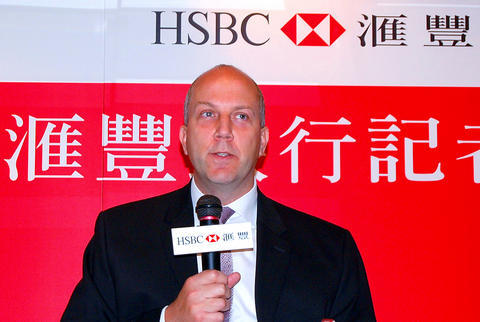 HSBC Taiwan chief executive Alistaire Currie yesterday vowed to turn a profit next year after taking over The Chinese Bank.
PHOTO: YANG YA-MING, TAIPEI TIMES
As the nation's personal financing segment is recovering from huge credit card defaults, Currie said "We are also confident on Taiwan's personal financing."
The acquisition would also help HSBC expand its life insurance business in Taiwan, Currie said, adding that the London-based bank set up a life insurance operation in Taiwan earlier this year.
HSBC intends to turn around The Chinese Bank next year and aims to complete integration in two years, Currie told a press briefing.
After the merger, HSBC would increase its outlet network nearly six-fold from eight to 47.
The European bank yesterday also said it planned to set up a local subsidiary in the first half of 2009 as part of the agreement with the Central Deposit Insurance Corp (CDIC), which will take The Chinese Bank out of receivership.
As part of its efforts to reach its goal, HSBC will inject another US$300 million to US$400 million in capital into The Chinese Bank, it said. HSBC is scheduled to sign an agreement with the CDIC tomorrow.
Answering a question about HSBC's future expansion plans in Taiwan, Currie said, "The door is not closed."
Expansion in Taiwan would serve a "strong component" of HSBC's development in the rapidly growing Greater China market and other Asian markets such as Vietnam, he said.
The Chinese Bank posted gross assets of about NT$100.16 billion as of the end of the third quarter. The lender operates 36 branches and has over one million customers around the nation.
Under the terms of the transaction, HSBC would also be able to covert three business offices of the Chinese Bank into new branches.
Comments will be moderated. Keep comments relevant to the article. Remarks containing abusive and obscene language, personal attacks of any kind or promotion will be removed and the user banned. Final decision will be at the discretion of the Taipei Times.