US rate-cut optimism propels Asia higher
RECORD RUN Hong Kong's Hang Seng Index exceeded 27,000 points for the first time, while benchmarks in China, Australia, India and Singapore also set new highs
Asian stocks climbed this week, driving a regional benchmark to a record, on speculation the US Federal Reserve will trim borrowing costs to help avert a recession in the world's biggest economy.
Sumitomo Mitsui Financial Group and National Australia Bank Ltd led lenders higher on expectations the cost of credit will fall globally, easing a crisis that forced UK mortgage lender Northern Rock Plc to seek emergency funding this month.
"The chance of another rate cut in the US helps banks; it's like petrol to a fire," said Hans Kunnen, who helped manage the equivalent of US$117 billion at Colonial First State Global Asset Management in Sydney. "Lower interest rates mean more people will be out to borrow money."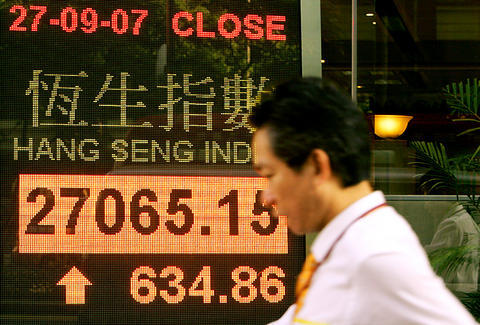 A man walks past a digital stock indicator showing the Hang Seng Index outside a bank in Hong Kong on Thursday. The Hang Seng index closed up 77.32 points at 27,142.47 on Friday after reaching a new all-time-high of 27,166.01 on Thursday.
PHOTO: AP
PetroChina Co had its best week in three years and China Mobile Ltd surged amid mounting speculation China will ease curbs on mainland investment in Hong Kong. The Hang Seng Index exceeded 27,000 points for the first time and benchmarks in China, Australia, India and Singapore also reached highs.
The Morgan Stanley Capital International Asia-Pacific Index added 4.8 percent to 163.25, with all 10 industry groups posting gains. Japan's NIKKEI 225 Stock Average added 2.9 percent and benchmarks elsewhere in the region advanced.
The Hang Seng Index last week rose 5 percent to a record 27,142.47 and the market value of shares listed on Hong Kong's exchange exceeded HK$20 trillion (US$2.6 trillion) for the first time.
TOKYO
Japanese share prices closed mixed in subdued trading as investors refrained from buying ahead of a key central bank survey of business sentiment due next week.
Dealers said a raft of domestic data had given mixed signals on the health of the world's second largest economy, while modest overnight gains on Wall Street failed to inspire investors here.
The NIKKEI-225 index of leading shares fell 46.53 points to 16,785.69.
HONG KONG
Share prices closed at yet another record high as China stocks drew strong interest in late trading, helping the market finish the third quarter on a strong note.
Dealers said that several H-share firms drew strong interest after the Shanghai bourse hit a new high, with oil counters in the limelight after crude prices moved back to above US$83 a barrel.
Select blue chips also gained due to window-dressing activity by fund managers on the last trading day of September, but China property stocks finished weaker after Beijing announced new measures to cool the sector.
The Hang Seng index closed up 77.32 points at 27,142.47. Turnover also hit a new all-time high at HK$148.58 billion.
SHANGHAI
Chinese share prices closed 2.64 percent up to hit a record high on the last trading day for the third quarter, with energy and resources stocks leading gains.
Dealers said a further boost to the market came after about 2 trillion yuan (US$266 billion) worth of excess subscription funds from Shenhua Energy's Shanghai initial public offering was returned to investors.
The Shanghai Composite Index closed up 142.90 points at 5,552.30.
SEOUL
South Korean share prices closed flat as investors welcomed Wall Street's overnight advance but were reluctant to make major commitments before the weekend.
Dealers said investors were also wary of adopting fresh positions after a five-day run-up that saw the main index gain nearly 100 points.
The KOSPI index ended 1.20 points higher at 1,946.48.
SYDNEY
Australian share prices closed up 0.5 percent, led by mining giant BHP Billiton on expectations of continuing strong commodity prices.
The S&P/ASX 200 ended up 29.7 points at 6,567.8.
SINGAPORE
Share prices closed 0.23 percent lower, easing back from the record high set a day earlier.
Dealers said profit-taking set in, despite gains in selected blue chips including oil and gas-related plays.
The Straits Times Index closed 8.54 points higher at 3,706.23.
KUALA LUMPUR
Malaysian share prices closed flat on profit-taking ahead of the weekend but higher trading volumes toward the close indicated sentiment remained fairly positive.
The composite index ended up 0.64 points at 1,336.30.
MUMBAI
Indian share prices rose 0.82 percent on Friday to an eighth straight record close, in volatile trading as global trends were mixed, dealers said.
The Mumbai stock exchange SENSEX rose 140.54 points or 0.82 percent to a record 17,291.1, beating the previous best of 17,150.56 on Wednesday. The SENSEX hit a new intraday high of 17,361.47, surpassing the earlier record of 17,188.4.
BANGKOK
Thai share prices closed marginally higher as foreign investors chased gains in energy-linked shares with world oil prices nearing historic peaks.
The composite index rose 2.45 points to 845.50.
Also see story:
Comments will be moderated. Keep comments relevant to the article. Remarks containing abusive and obscene language, personal attacks of any kind or promotion will be removed and the user banned. Final decision will be at the discretion of the Taipei Times.