Asian markets register third week of gains
REGIONAL ROUNDUP In Taipei technology heavyweights helped push the TAIEX to a seven-year high as the market emerged from consolidation around 9,500 points
Asian stocks climbed for a third week, driving a regional benchmark to a high as China reported the fastest economic growth in 12 years. China Mobile Ltd and Nippon Steel Corp, Asia's biggest maker of the alloy, advanced.
"Companies are benefiting from tight supply and growing demand," said Masayuki Kubota, who helps oversee US$2.1 billion in assets at Daiwa SB Investments Ltd in Tokyo. "The global economy and corporate profits are being driven by growing demand in emerging markets such as China."
The Morgan Stanley Capital International (MSCI) Asia-Pacific Index gained 0.8 percent to 160.72, extending this month's gain to 5 percent.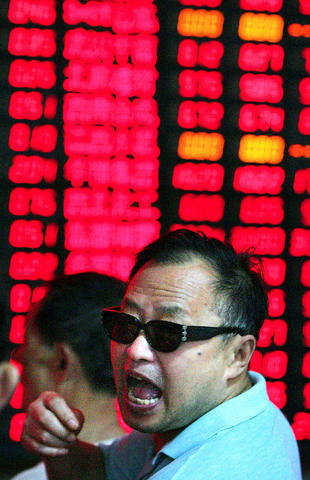 An investor gestures in front of a stock price board showing rising prices at a private securities firm in Shanghai on Friday. Chinese share prices rose sharply on Friday, with the Shanghai Composite Index gaining 3.73 percent to close at 4,058.85, its highest level since June 28.
PHOTO: AFP
A measure of materials producers that includes Nippon Steel posted the biggest increase among the MSCI's 10 industry groups.
Tokyo Electric Power Co led declines in Japan, posting the biggest weekly drop in two decades, after a magnitude 6.8 earthquake struck northwest Japan damaging one of its nuclear reactors. The NIKKEI 225 Stock Average slid 0.4 percent.
Benchmarks climbed to records in Australia, Hong Kong, India, Indonesia and South Korea, while Taiwan's TAIEX finished at a seven-year high. Pakistan's Karachi Stock Exchange 100 Index was the biggest loser, sliding 6.8 percent amid a wave of deadly terrorist attacks.
China's CSI 300 Index climbed 4 percent, the biggest gain in the region, as the government reported 11.9 percent economic growth for the second quarter. China Vanke, China's biggest listed developer, jumped 21 percent to 25.64 yuan.
Hong Kong-listed China Mobile, the world's largest mobile-phone operator by users, rose 2.5 percent to a record HK$93.20.
The company said it added 5.53 million users last month, the ninth straight month it enlisted a record number of customers.
TAIPEI
Taiwan share prices closed 1.19 percent higher, taking their lead in active trading from another record finish on Wall Street after upbeat US corporate earnings reports, dealers said.
Technology bellwether stocks largely regained momentum but non-tech industrials and financials were a mixed bag amid select profit-taking after their recent strong performance, they said.
The weighted index rose 112.59 points to 9,585.90, the high for the day, on turnover of NT$221.91 billion (US$6.79 billion).
The index hit an intraday low of 9,487.95. Risers led decliners 919 to 564, with 133 stocks unchanged.
A total of 51 stocks closed limit-up and 22 were limit-down.
The market was ready to move upward again after a period of consolidation at around 9,500 points on the benchmark index, an analyst with a leading local house said.
Technology heavyweights in particular -- with the exception of Taiwan Semiconductor Manufacturing Co (台積電) -- helped push the index higher on Friday, he added.
Quarterly earnings released by local companies toward the end of the month will determine whether the market will be able to ride the news toward 10,000 points, the analyst added.
TOKYO
Japanese share prices ended the week on an upbeat note after Wall Street hit another record high overnight on solid US corporate results, dealers said.
But they said the gains were limited by jitters over the first-quarter results of domestic firms which start coming out next week.
The Tokyo Stock Exchange's benchmark NIKKEI-225 index of leading shares rose 41.36 points or 0.23 percent to 18,157.93. Over the week it lost 0.44 percent.
The broader TOPIX index of all first-section shares added 8.17 points or 0.46 percent at 1,776.17. The index fell 0.39 percent for the week.
Decliners outnumbered gainers 936 to 667, with 126 stocks flat.
HONG KONG
Hong Kong share prices closed at record highs as China Mobile and mainland financials posted strong gains following a sharp rally on the Chinese markets, dealers said.
The Hang Seng Index closed up 275.7 points or 1.20 percent at 23,291.90, after trading in a range of 23,118.67 and a new all-time-high of 23,301.93.
For the week, the index was up 192.61 points or 0.83 percent.
SHANGHAI
Chinese share prices closed sharply higher, adding 3.73 percent to a three-week high, boosted by property stocks and optimism over expected strong interim earnings for financial firms, dealers said.
The benchmark Shanghai Composite Index, which covers both A and B-shares listed on the Shanghai Stock Exchange, jumped 145.91 points or 3.73 percent to 4,058.85, its highest level since June 28.
The Shanghai A-share Index put on 153.02 points or 3.73 percent at 4,258.09 and the Shenzhen A-share Index rose 44.09 points or 3.91 percent at 1,172.42.
SEOUL
South Korean shares rose sharply, adding 2.4 percent for another record finish as technology stocks led gains after another stellar performance on Wall Street overnight, dealers said.
The KOSPI index jumped 45.64 points to 1,983.54. For the week, the index gained 1.0 percent.
SYDNEY
Australian shares rose 0.60 percent for yet another record finish as the heavyweight mining stocks led the market up on the back of a strong performance on Wall Street overnight, dealers said.
The S&P/ASX 200 was up 37.6 points at 6,421.8 while the broader All Ordinaries put on 37.7 points to end the week at 6,456.7.
SINGAPORE
Singapore share prices closed 1.3 percent higher as investors cheered strong gains on Wall Street overnight and local property stocks recovered, dealers said.
The Straits Times Index rose 46.76 points to 3,651.38, just short of last Friday's record finish at 3,654.61.
KUALA LUMPUR
Malaysian share prices closed 0.43 percent higher, extending gains on the back of another record Wall Street performance overnight, dealers said.
The Kuala Lumpur Composite Index rose 5.96 points at 1,382.36.
BANGKOK
Thai share prices closed 0.39 percent higher, in line with strong regional markets after a record finish on Wall Street, dealers said.
The SET composite index rose 3.28 points to 850.54 and the blue chip SET 50 gained 2.34 points to 608.65.
JAKARTA
Indonesian share prices rose 1.4 percent to a record close on follow-through buying across-the-board on expectations that most companies will report strong first-half earnings, dealers said.
The Jakarta Stock Exchange composite index added 32.71 points at 2,366.40, beating the previous all-time high of 2,333.7 points set on Thursday.
For the week, the main index rose 64.80 points or 2.8 percent.
MANILA
Philippine share prices closed 0.9 percent higher, with sentiment getting a boost from Wall Street's record finish overnight, dealers said.
The composite index rose 35.37 points to 3,738.28, off the day's high of 3,744.71. The all-share index rose 25.35 points to 2,421.92.
WELLINGTON
New Zealand share prices closed 0.60 percent higher following gains in overseas markets, dealers said.
The benchmark NZX-50 index rose 26.01 points to 4,320.27, just short of the record finish of 4,333.24 set on May 24.
MUMBAI
Indian share prices edged up to another record finish in volatile trade marked by profit-taking, dealers said.
The SENSEX closed up 15.42 points or 0.10 percent at 15,565.55, down from an intraday high of 15,683.03.
Comments will be moderated. Keep comments relevant to the article. Remarks containing abusive and obscene language, personal attacks of any kind or promotion will be removed and the user banned. Final decision will be at the discretion of the Taipei Times.