Qantas takeover dramatically revived
REPRIEVE Airline Partners Australia said an unnamed investor's votes were received on Friday, boosting shareholder acceptances past the level needed to extend the bid
A multibillion dollar takeover bid for Qantas Airways was dramatically resurrected yesterday just hours after the bidders conceded defeat, although analysts said regulators may yet quash the late reprieve.
The consortium behind the A$11.1 billion (US$9.2 billion) bid said last-minute support from a large investor had edged shareholder acceptances for the deal over the threshold needed to prevent it collapsing.
It was a major turnaround for private equity consortium Airline Partners Australia (APA), which said late on Friday that not enough shareholders supported its six-month campaign to win control of the iconic Australian airline.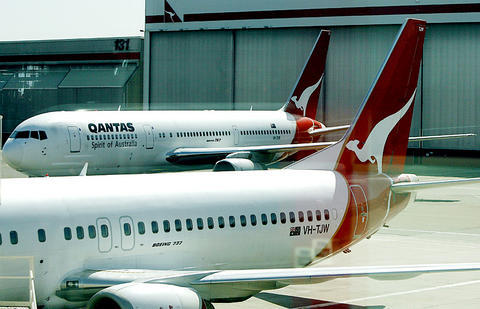 Two Qantas jets pass each other at Sydney International Airport on Friday. Airline Partners Australia, which is offering A$11.1 billion (US$9.2 billion) for Qantas Airways, hopes to keep its bid alive after winning over a key stakeholder within hours of a deadline that appeared to have killed the deal.
PHOTO: AP
"However, subsequently on Friday, APA received an acceptance from a large investor, which would be sufficient to take acceptances for Qantas shares to more than 50 percent," APA said in a statement.
APA said that the unnamed investor's votes took shareholder acceptances to 50.6 percent, just above the 50 percent level needed to extend the bid for two weeks.
The bid's fate now rests on whether Australia's Takeovers Panel sanctions the late acceptance, which came after the Friday deadline.
A positive response would give APA two weeks to try to take shareholder acceptances up to 70 percent, the level needed to finalize the on-again, off-again takeover, although analysts remain sceptical of its long-term prospects.
BBY analyst Fabian Babich said Qantas shares should be suspended until the issue with the regulator was resolved.
"As the situation stands now, it would be inappropriate for Qantas shares to be traded," he told Sky News.
A Qantas board meeting held yesterday to discuss the saga's latest developments did not clarify the situation, with directors simply saying they would issue a statement to the market before trading commenced tomorrow.
The early rejection of the bid would have been a major embarrassment for the board, which unanimously backed the takeover, believed to be the largest ever private equity bid for an airline.
Chairwoman Margaret Jackson said in March that the airline would be dangerously "destabilized" and its share price would plummet if the bid was rejected.
Investors will now be watching closely if Qantas shares resume trading tomorrow to see whether the confusion drives down the stock price.
Shaw Stockbroking analyst Brent Mitchell believed APA would now struggle to reach 70 percent, given the target has already been reduced from 90 percent after some large investors baulked at the A$5.45 a share on offer.
"It does make it very difficult to achieve the 70 percent that they hoped for. They're now running up against some of the hard-core shareholders that have indicated they wouldn't accept this bid at this current price," Mitchell told ABC radio.
One institutional investor, Balanced Equity Management, said recently that A$6.45 a share was closer to the real value of Qantas as the airline continues to post strong profits in a booming global aviation market.
Center for Asia-Pacific Aviation managing director Peter Harbison said the bid was an unwelcome distraction for Qantas' management at a time when it was facing a price war in the Australian domestic market.
"There are a lot of barracudas circling and this is a diversion that Qantas' management do not need as they deal with these new threats," he said.
Harbison said that Qantas' management needed to concentrate on running the airline, not share market shenanigans, as Singapore-based budget airline Tiger prepares to launch in Australia and existing rival Virgin Blue expands its network.
He said Qantas now faced the prospect of a protracted battle between APA and the hold-out investors who oppose the bid.
The APA consortium comprises Australian companies Macquarie Bank Ltd, Allco Finance Group Ltd and Allco Equity partners, as well as US buyout firm Texas Pacific Group and Canada's Onex Corp.
Comments will be moderated. Keep comments relevant to the article. Remarks containing abusive and obscene language, personal attacks of any kind or promotion will be removed and the user banned. Final decision will be at the discretion of the Taipei Times.