ExxonMobil and Qatar Petroleum drop project
State-run Qatar Petroleum and US energy giant ExxonMobil announced on Tuesday they had shelved plans for a vast, multibillion dollar gas project in Qatar.
The companies announced the cancelation of the gas-to-liquids project in a brief statement issued by ExxonMobil without disclosing what had prompted the sudden mothballing of the major project.
It had been conceived as the world's largest single, fully integrated gas-to-liquids project in the gas-rich Middle East state, worth US$7 billion, when it was originally unveiled in July 2004.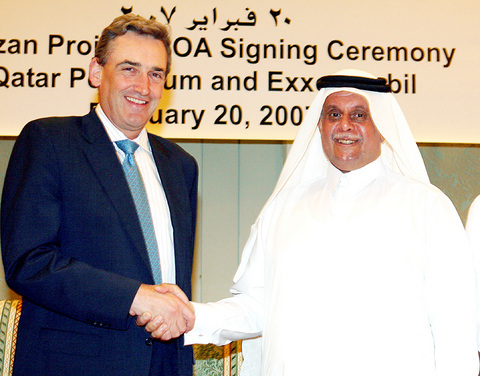 Qatar's Second Deputy Premier and Minister of Energy and Industry Abdullah bin Hamad al-Attiya, right, shakes hands with Alex Dodds, president of ExxonMobil Qatar, after signing an agreement on the Barzan gas project in Doha, Qatar on Tuesday.
PHOTO: AP
Such projects enable energy firms to refine natural gas into fuel oils which can be sold or further blended with diesel fuel.
"The two entities [Qatar Petroleum and ExxonMobil] have collectively decided not to progress the gas-to-liquids project and instead to pursue the development of the Barzan Project in the North Field," the statement issued by ExxonMobil in Texas said.
The Qatar gas project had been expected to kick start production by 2011 and would likely have been lucrative for ExxonMobil as the company was chosen to design, construct and oversee operations.
Plans had called for the facility to be built in Qatar's Ras Laffan Industrial City.
Qatar Petroleum has, however, offered the firm participation in the Barzan gas project, as well as offering participation rights in all future phases to ExxonMobil Middle East Marketing, ExxonMobil said in the statement.
"The Barzan Project is a very important strategic project for Qatar," Qatari Energy Minister Abdullah bin Hamad al-Attiyah was quoted as saying in ExxonMobil's statement.
The Qatari government also has gas production accords with France's Total, Anglo-Dutch Royal Dutch/Shell and South Africa's Sasol.
Comments will be moderated. Keep comments relevant to the article. Remarks containing abusive and obscene language, personal attacks of any kind or promotion will be removed and the user banned. Final decision will be at the discretion of the Taipei Times.