Asia struggles as US feel-good factor ebbs
CAUTIOUS Worrying Fed data sparked early losses in Taipei which were limited by hopes for end-quarter window-dressing and a rally in firms with a presence in China
Asian stocks closed lower on Friday, hit by losses on Wall Street after US data showing a surprise contraction in a key industrial region pointed to a possibly sharper-than-expected US slowdown, dealers said.
They said this was more than enough to offset any lingering feel-good factor from the US Federal Reserve's decision to leave interest rates on hold, with that move now being taken instead as another indicator that all may not be well with the US economy.
A regular Philadelphia Federal Reserve survey fell to minus 0.4 points last month from a positive 18.5 in July, compared with forecasts for 14.4, with Wall Street losing 0.69 percent as a result.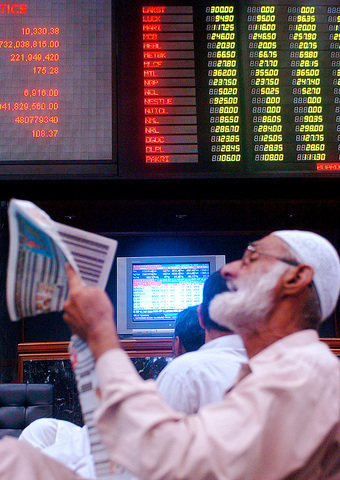 A Pakistani investors reads the newspaper at the stock exchange in Karachi, Pakistan, on Friday. Pakistani stocks are likely to surge despite trading hours being reduced in the holy month of Ramadan as investors see positive results from Pakistani President Pervez Musharraf's visit to the US, dealers said.
PHOTO: AFP
"The sharp drop in the Philadelphia Fed index is a warning sign that maybe the economy is slowing more than believed," said Joel Naroff of Naroff Economic Advisors in New York.
Tokyo, down 1.26 percent, was especially under pressure after recent very mixed Japanese data and concerns about the country's main export market.
"It would be correct to read the current situation as a global slowdown -- no longer a peaking-out -- and this includes Japan," said Norihiro Fujito, a senior strategist at Mitsubishi UFJ Securities.
Dealers said that should both the US and Japanese economies slow in tandem, then the region could be in for a rough ride as exports come under pressure.
TAIPEI
Taiwanese share prices closed little changed as initial losses driven by Wall Street's overnight weakness were offset by rotational interest, dealers said.
Bellwether technology stocks lost ground in line with their US counterparts, but some laggard "China Concept" companies gained on the back of an appreciating yuan.
The TAIEX lost 4.29 points at 6,885.60, off a low of 6,854.02 and a high of 6,890.90, on turnover of NT$64.38 billion (US$1.96 billion).
Declines led gainers 527 to 505, with 204 stocks unchanged.
President Securities (統一證券) manager Johnny Lee said the early losses sparked by Wall Street's weakness were pared significantly by rotational interest and expectations of window-dressing by fund managers before the end of the quarter.
"Wall Street's lead convinced investors to stay cautious, given concerns over the US economic outlook," but hopes for end-quarter window-dressing and a rally in some companies with a presence in China on the rising value of the yuan helped limit the fall, Lee said.
TOKYO
Japanese share prices sank to a six-week low on fears that a global economic slowdown will undercut company profits, dealers said.
They said that after losses overnight on Wall Street, sentiment was further hit by a local survey showing business sentiment may be peaking out.
The Tokyo Stock Exchange's benchmark NIKKEI-225 index tumbled 199.56 points or 1.26 percent to 15,634.67, the lowest closing level since Aug. 11.
The broader TOPIX index of all first-section shares dropped 16.48 points or 1.04 percent to 1,563.60 for its weakest finish since Aug. 8.
Losers led gains 1,267 to 346, with 84 stocks flat.
September is historically one of the toughest months for stocks and this year is proving no exception, with a weak US manufacturing index overnight stoking concerns about the pace of the US economic slowdown, dealers said.
SEOUL
South Korean share prices closed sharply lower, falling 1.35 percent as Wall Street's overnight downturn on much weaker-than-expected data prompted heavy foreign investor selling, dealers said.
The KOSPI index lost 18.41 points at 1,348.38, with investors concerned about a potentially more serious slowdown in the US, a key export market for South Korea and the region as a whole.
Samsung Electronics and other major IT stocks and exporters tumbled, extending heavy losses for a second day due to fears exports may be additionally hurt by the won's recent sharp appreciation.
HONG KONG
Hong Kong share prices closed off their lows as a stronger-than-expected debut for China Merchants Bank encouraged investors to pick up select blue chips in late trade, dealers said.
The market was hit in early trade by US economic data showing an unexpected contraction in manufacturing activity but it recouped most of its losses in the afternoon as investor sentiment got a lift from the Chinese lender's strong debut.
The Hang Seng Index fell 19.32 points or 0.11 percent to 17,600.65, off a low of 17,511.96 and a high of 17,639.13.
"The market was quite volatile, with US losses weighing [on sentiment] in early trade," said Castor Pang, strategist at Sun Hung Kai Financial group.
"But the losses were trimmed in the afternoon as funds flowed back into the market ... boosting select blue chips," Pang said.
Pang said sentiment in the local market is generally positive following China Merchants Bank's strong debut and due to upcoming IPOs, including that of Industrial and Commercial Bank of China (ICBC).
"The market should see strong support in the near-term as large upcoming IPOs will help boost buying interest ... I expect the benchmark index to rise to 17,800 points in the near term," Pang said.
SHANGHAI
Chinese share prices closed 0.91 percent lower on profit-taking ahead of the National Day holiday next month, with airlines and steel makers under pressure, dealers said.
They said further gains in the yuan to another post-revaluation high against the dollar continued to provide overall support and after recent sustained rises there was little surprise that some investors took profits ahead of the weekend.
There may be more of the same next week as investors look ahead then to the week-long National Day holidays.
The Shanghai A-share Index fell 16.72 points to 1,812.69 and the Shenzhen A-share Index was down 3.32 points or 0.74 percent at 446.55.
The benchmark Shanghai Composite Index, which covers both A- and B-shares, lost 15.54 points or 0.89 percent at 1,725.36.
The yuan posted its highest post revaluation close against the dollar, ending at 7.9160 compared with the previous finish at 7.9231.
SYDNEY
Australian shares prices closed 0.25 percent lower as losses in the the banks offset bargain hunting in resource stocks following an overnight jump in metal prices, dealers said.
They said the banks were hit after ANZ said it was putting into receivership New Zealand carpet maker Feltex, with the sector already under pressure from recent earnings downgrades.
The benchmark S&P/ASX 200 shed 12.7 points at 4,983.2 while the broader All Ordinaries Index fell 11.0 points to 4,948.4.
SINGAPORE
Singapore share prices closed 0.70 percent lower, weighed down by Wall Street's overnight decline on renewed worries the US economy may be cooling down faster than expected, dealers said.
The Straits Times Index fell 17.76 points to 2,520.50.
KUALA LUMPUR
Malaysian share prices closed little changed, with investors sidelined ahead of a central bank decision on interest rates next week, dealers said.
The Kuala Lumpur Composite Index was down 0.85 points at 965.23 on volume of 456.9 million shares.
BANGKOK
Thai share prices closed at a two-month low as investors continued uneasy after a military coup ousted premier Thaksin Shinawatra overnight on Tuesday, dealers said.
They said selling spread across the board as the coup left foreign investors jittery over the political future of Thailand.
The Stock Exchange of Thailand (SET) composite index dropped 10.86 points or 1.57 percent to 681.71 and the blue-chip SET 50 index lost 6.97 points to 480.07.
MUMBAI
Indian share prices closed down 0.31 percent, snapping two days of strong gains amid bearish global stock market sentiment triggered by fears of a US economic slowdown, dealers said.
They said buying interest weakened across index and mid-cap stocks.
The benchmark 30-share SENSEX fell 37.49 points to 12,236.78.
Comments will be moderated. Keep comments relevant to the article. Remarks containing abusive and obscene language, personal attacks of any kind or promotion will be removed and the user banned. Final decision will be at the discretion of the Taipei Times.