Global tensions ignite oil market
NEW HIGHS With Brent North Sea crude hitting a high of US$78.03 on Friday, traders said developments in Israel and North Korea could propel prices to as high as US$100
Ignited by a flare-up in violence in the Middle East, world oil prices hit fresh record highs on Friday, with prices in New York and London at one stage broaching US$78.
Crude oil prices have spiked in recent days as Israel launched a wide military offensive across Lebanon, partly in response to the kidnapping of two soldiers, and Hezbollah guerrillas fired rockets into northern Israel.
New York's main contract, light sweet crude for delivery in August, rallied US$0.33 to close at US$77.03 a barrel on Friday after the contract struck an all-time high of US$78.40 overnight in electronic deals.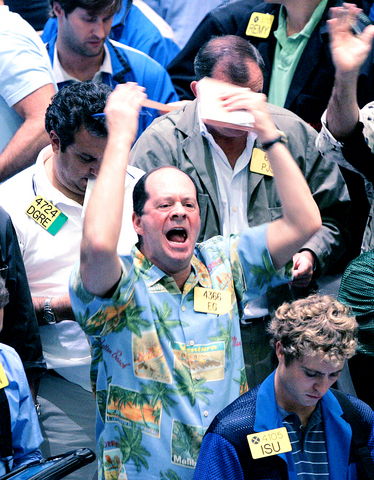 Traders work the oil futures pit at the New York Mercantile Exchange on Friday. Oil prices are approaching US$80 per barrel as intensifying violence in the Middle East raises concerns of possible supply disruptions.
PHOTO: AP
In London, Brent North Sea crude for August delivery settled at US$77.27 a barrel, up US$0.58 from Thursday. Brent had hit a record high of US$78.03 in earlier electronic trading on Friday.
Traders said tensions over Iran's nuclear program had also fueled the price gains as some analysts said oil prices looked set to break the US$80 barrier, with some even talking about the possibility of prices striking US$100.
"Oil prices are very sensitive to tensions in the Middle East, the source of more than a fifth of world oil output," Sucden analyst Michael Davies said.
However, adjusted for inflation, current oil prices remain below levels reached after the 1979 Iranian revolution of about US$85 in today's money.
Crude futures began hitting fresh peaks on Thursday, beating all-time highs recorded on July 7 on the back of geopolitical angst over major crude producer Iran and missile tests carried out by North Korea.
"We have to conclude that this will get worse before it gets better, and the possibility exists that forces may have been unleashed that may be difficult or even impossible to contain," said John Kilduff, an energy analyst with Fimat USA.
Developments in Israel and North Korea -- which are not oil producing nations -- have rocked world oil markets because they have led to heightened global tensions as a violent insurgency continues to rage in oil-rich Iraq.
"It seems like hitting US$80 a barrel is inevitable," said Victor Shum, a Singapore-based analyst with the energy consultancy Purvin and Gertz.
"We're in uncharted territory. It is a result of a confluence of a number of geopolitical events in a tight market that shows healthy demand growth."
Shum said oil at US$100 a barrel was "still quite a bit off from where we are today, [but] there is certainly the potential for it to hit that."
Four civilians were killed and dozens others were wounded in Israeli attacks on Lebanon Friday, police said, raising to well over 50 the death toll since the start of the offensive two days ago.
Israeli Prime Minister Ehud Olmert on Friday gave the green light to further raids in Lebanon, as officials vowed to repel a hail of deadly Hezbollah rocket attacks, Israeli public radio reported.
Iran meanwhile continued its defiance of Western efforts to curb its nuclear research program, with President Mahmoud Ahmadinejad warning on Thursday that Tehran could halt UN inspections and quit the nuclear Non-Proliferation Treaty.
His statement came after world powers referred the crisis over Iran's disputed nuclear drive back to the UN Security Council, raising the prospect of sanctions.
There are concerns Iran could retaliate by cutting oil output or even by blocking the strategic Strait of Hormuz, a key gateway for Middle East oil shipments.
Tony Nunan, the Tokyo-based manager for energy risk management at Mitsubishi Corp, agreed US$100 oil was a possibility.
"I don't want to cause panic in the market ... but I think the market has to understand that triple-digit [oil prices] are not a fantasy anymore and are definitely possible," he said.
"We'll definitely be seeing US$80. It could either gradually escalate ... or it could explode," Nunan said.
Comments will be moderated. Keep comments relevant to the article. Remarks containing abusive and obscene language, personal attacks of any kind or promotion will be removed and the user banned. Final decision will be at the discretion of the Taipei Times.